What do most fathers have in common? Well apart from having children! Yes most of them love their gadgets, tech and any other toys that they can get their hands on!
With that in mind and also as a means of trying to figure out exactly what gift idea I should buy for my own father this Father's Day, here's a bunch of gadget-based suggestions for all of us to consider.

Kelvin.23 Multi-Tool
Not just another Swiss Army Knife kind of thing, this takes multi-tools to the next level and gives it a more modern update with its wide array of features and functions – you get a tool that does 23 different types of things – all in a device that easily fits in your pocket!

Air Guitar Rockstar
Sure this has been around since last Christmas, but is your Dad still missing one of these – you can't take your Guitar Hero accessory everywhere with you like you can with this, plus who wouldn't want one after seeing the lovely Kate on Sir Alan Sugar's TV show; The Apprentice demonstrating it on a TV shopping channel!

Vuzix Personal Display Glasses
I remember wanting these kind of devices ever since I first saw them in science-fiction films when I was a kid, most notably in Back to the Future 2, why should you have to go to a set place to view your movies, why not watch them wherever you like with these personal display glasses.

Flip HD Digital Video Camera
Sure you might have some dodgy video capturing facility on your mobile phone, but a lot of the time you won't be able to make out what you've actually recorded. The answer to this? If you want to do something right, get a proper device for the job and with the Flip HD you'll have the best pocket video camera you can currently get which records in gorgeous 720p high definition goodness!

Garlic Zoom
What bloke doesn't like to think he is a complete top notch chef in the kitchen?…on the occasional basis he may cook! Give him a gadget and he might cook more often, like in the case of the Garlic Zoom which chops up your garlic without you having to deal with smelly fingers afterwards!

USB Microscope
Does your dad fancy himself as bit of a scientist? Does he think he missed his calling in further human science? Well now he can make up for that by using the USB Microscope to examine the microscopic world and see what's going – who know what kinds of bugs he may find!

Sega Megadrive Console
The chances are that your dad might have played on Sega's Megadrive console back in his youth, playing the like of the original Sonic the Hedgehog games. Well with this re-released version of the console, you get two controllers and 15 games (including Sonic and Golden Axe) built into the console itself, as well as being able to plug in any old Megadrive games you might still have!

AirCurve
The AirCurve is an iPod Touch/iPhone speaker which is self-powered, well so to speak, because it uses a clever design of curves and tubes in the clear plastic dock to amplify the sound in a natural way – similar in some sense to how a human ear works…only better! This is quite a cool little device which keeps things simple and is environmentally friendly by not using any electricity, in this case, less is most definitely more!

Gorillapod
As more of us become better photographers, well in our heads anyway, we start to look at devices which can make our photos even better after having already bought a great camera – step up the Gorillapod which is essentially a flexible tripod which can attach and grip your camera to a variety of objects to ensure you can take a good stable image, it's also great for taking shots of yourself/the whole group of you when there is no-one else around to do it for you!

Freeloader Solar Charger
Has your dad ever been out and about with his mobile phone, iPod or other portable device and he ran out of power away from a power socket or perhaps without a charger? Well now he can use this nifty solar charger to re-charge his favourite devices for free using the energy from the sun! It can also store the energy for later use, so makes for a great emergency recharger; you can also charge it from USB if you want to use it in that way!

Lightsaber Umbrella
If there's something we get plenty of in the UK, it's rain, so getting him an umbrella would no doubt be something he'd get some good use out of, however does he like Star Wars? Does the boy in him still want to pretend he's a Jedi? Here's the perfect combination of the two, an umbrella that doubles a lightsaber!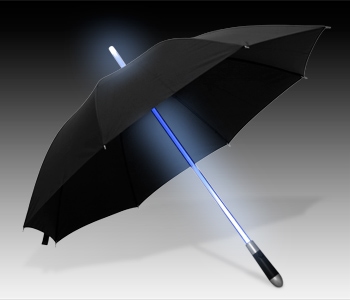 If none of those ideas have been good enough for what you think your father would want in a gadgety gift, then why not take a look at the more comprehensive lists over at Firebox and I Want One of Those.