Tag listing for
video
Up until the last couple of months, I'd been playing World of Warcraft (WoW) for around 18 months, so by that point, it is quite easy to get yourself very immersed into the the concepts, phrases and overall language of this massive online game.
Continue reading »
That's right folks! Zelda's back.
I loved Legend of Zelda: Phantom Hourglass and cannot wait for the second Zelda game to hit the little magical gem of the DS.
In Legend of Zelda: Spirit Tracks, you drive a train instead of a boat like in Phantom Hourglass, but you can upgrade your train to add cannons in the same way. Suppose this will be a nice change and keep things a little different and fresh.
Continue reading »
Left 4 Dead? – A first person shooter game that does just that, it leaves you for dead as you to play through a zombie apocalypse movie with your friends as one of four survivors! – Why hasn't this been done before now?
I've liked the Source game engine ever since I first played Half Life 2 and it's good to see Valve continuing to develop it as they release more games using it such as the episodic updates to Half Life – but I also like that they are creating some very different types of games using it like Portal and now we've got another in the form of Left 4 Dead.
Continue reading »
Beware of the monkeys!
Watch out when you're next at the safari park as the monkeys are learning fast what to do with our technology – in this case with all the bits of cars that they pull off as you drive through.
At this rate it won't be long until they'll be rising up and we'll be facing a 'Planet of the Apes' situation…well maybe not just yet, but at least watch out for those dodgy monkey drivers out there cutting you up on the road!
Take a look at this video and see just what these little monkeys are up to!
Continue reading »
Microsoft Songsmith has recently been released as a new piece of software from Microsoft's research branch of software development, perhaps with a view to selling it in future, put simply it will create a musical jingle song based on somebody just singing some lyrics.
It apparently analyses the singing that you play to it and will then create a backing track of music to accompany it based upon various options that you select, such as the musical style, tempo etc.
Continue reading »
Anyone who has played the Half Life games will know how they combine great gameplay with a good story narrative, particularly in Half Life 2 and the subsequent episodic installments we've got so far – with the in-game engine being used to great effect to create cut-scenes and create an immersive experience.
That being the case, the Half Life 2 has also spawned lots of mods that people have created using the game engine, even Valve have used it to create other games like Portal and Left 4 Dead, however now a clever bunch of film makers have used the Source engine to create their own low-budget Half Life series of videos.
Continue reading »
Like the Star Wars franchise, Lord of the Rings keeps coming back with more games based on the film years later. Lord of the Rings: Conquest lets you take control of many playable characters and monsters from the series. This includes all the Hero characters including the enemy characters such as Sauron.
The game allows up to 16 players online and fours players can play offline through the campaign mode. There are two offline campaign modes in the game, one being the original story of the films and the second having a take on what would have happened if Sauron had won the battle and if Frodo didn't throw the ring into the lava!
Lord of the Rings Conquest is a straight forward hack and slash game developed by Pandemic Studios – they were the same developers who did Star Wars Battlefront, so if you have already played Star Wars Battlefront you will most likely know what Lord of the rings is all about. However this time instead of Jedis, Spaceships and lightsabers you have wizards, balrog and swords.
Continue reading »
Many people were a little taken aback when it was announced that Call of Duty 5 would return back to a World War 2 setting in Call of Duty: World at War, however I'm someone who hadn't played Call of Duty 4: Modern Warfare (and still haven't got to playing it yet) so for me personally this follows the spirit of the previous Call of Duty games I've played.
The new setting of the Pacific war in which you play an American soldier compliments the more usual European war location (in this case you're fighting as a Russian trying to take back Russia) and I feel adds a completely new take on things in terms of both tactics and the feel of the graphics.
Continue reading »
They're coming along thick and fast now! A new teaser trailer has just been released for Transformers: Revenge of the Fallen.
This first Tranformers 2 Trailer was good as it gave us a little taster as to what's to come, but my word is this one much better. Not only is it 4 times longer than the Superbowl TV spot, we see a bit more of new Transformers and an amazing part where a Transformer (don't know if it's an Autobot or a Decepticon) smashes through a building and transforms into a car and shoots off!!
Continue reading »
We've covered some funny adverts here on Zath before, but here I think this is quite a strange one which doesn't directly show what it is advertising or publicising…that I can discern at any rate!
Take a look at the video for it below in which is shows people planning things on maps, the use of GPS devices and marking pavements and posts with chalk – what could this be about?
Continue reading »
Are you a big fan of Star Trek? Have you ever thought of typing using a Klingon Keyboard? Well now you can with this rather novel keyboard, it's certainly a step up in the geek-factor from the one we covered in our recent World of Warcraft Keyboard review.
There's always been various different Star Trek merchandise out there that you can customise your desktop with, but in the case of this Klingon Keyboard, it's actually based on the best-selling Cherry G83-6000 keyboard with a PS/2 connection and a 105 key layout that has been customised with Klingon lettering and symbols.
Continue reading »
It was that time again the other week, where the big films for summer release little snippet trailers of what's to come, oh yeah, some American Football game took place too as well as the Transformers 2 trailer.
Among the trailers that were shown in the adverts during the Superbowl, this will probably be one of the biggest films of summer, Transformers: Revenge of the Fallen. After the first film which was a massive hit and one of my personal favourites, you can imagine the hype that the sequel is picking up and from what I've read, it's going to deliver big time and transform the blockbuster summer.
Continue reading »
"No one trips over a mountain; it is the smallest pebble that causes you to stumble."
Just thought I'd share this little gem with you all.
Mini Ninjas is an amazing looking game done by IO Interactive and published by Eidos. The plot of the game has you playing the mini ninja 'Hiro' (not the Heroes one!) as he embarks on a quest to bring peace and harmony back to the world, and ending in a battle against the Evil Samurai Warlord in his Fortress of Doom.
Continue reading »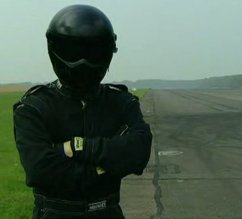 We recently saw that the Top Gear's White Stig Revealed (or at least one of the people in the costume) to be Ben Collins, a Formula 3 driver who has also done some work on the show as himself in the past.
The question remains whether the White Stig will suffer the same fate as the original Top Gear Black Stig did – after his identity was revealed, he was killed off while attempting a stunt on the deck of the HMS Invicible and ended up sinking into the ocean.
Continue reading »
The LG Renoir KC910 is a stunning mobile phone or perhaps we should say cameraphone given it offers a variety of quite brilliant features whilst keeping that stylish and sleek look of it's predecessor, the LG Viewty. When I first saw it at the LG Renoir Event I attended, I knew straight away that this would be the best looking phone I had owned, even better than the LG Secret! Now after using the phone for just over a month now I have found it to be very strong and can stand up to those long journeys and nights out and the touch screen is beautifully crafted and has great colours which are easy on the eye.
I have worked my way through the menu on the LG Renoir and have found some very useful features. I rarely had to use the manual to look things up as navigating through the menu was very easy and convenient to use. I always feel that a phone is very personal to each person and this phone fits my needs perfectly. Some of the key features which I enjoy using on the LG Renoir are the 8 mega pixel digital camera with xenon flash, Wi-Fi internet access, touch screen, geo-tagging, music, radio, GPS (using Google Maps software) and games.
Continue reading »
Diggnation is a weekly video podcast / Internet TV show that has been running for over 3 years now, which I only started watching back in early 2008. The show itself is basically two guys sat on sofa (or even a couch) discussing the latest popular websites and Internet news that's covered on the social bookmarking/voting website of Digg.com.
The two American guys that present it Kevin Rose (founder of Digg.com, sometimes presenter of Digg Dialogg) and Alex Albrecht (also presenter of Totally Rad Show and Project Lore podcasts) normally discuss their popular 'Digg' items, general tech news and emails from viewers of the show in a way that I feel is quite universal. And as such they have fans and viewers of the show all over the world and regularly have 'live events' (where the show is filmed in front of a live audience) in different countries.
So this makes for quite an entertaining 45mins of viewing on a weekly basis if like me you like hearing about what's happening on the Internet from two fairly entertaining guys sat on a sofa drinking alcohol or sometimes even herbal teas!
Continue reading »
When I first saw Mirror's Edge I wasn't keen because I'd not heard anything about it and thought nothing of it. Then the demo became available on the PSN, so I downloaded it and was hooked! I had to have this game!
This is probably one of the most underrated and under publicised games on the PS3 thus far.
Mirror's Edge sees you playing a runner called Faith. The storyline is a basic one but works well for a game like this.
Faith's sister has been framed for the murder of a big business cheese, and it's up to Faith to clear her name and save her sister.
Continue reading »
I'm one of those people who never really watched Star Wars properly when I was a kid, I remember watching bits of those films, but I never truly appreciated them. That was until I watched them through properly once I was around 13 or 14, so I can understand how people kind of tie bits of movies together and form their own storyline – although I never thought about Star Wars to that extent myself!
Once I did watch Star Wars, then obviously the story is pretty self-evident and not exactly open to much interpretation, however watching the animation below which details a certain girl's thoughts on what happens in the Star Wars movies – it certainly does provide a level of amusement to anyone who is familiar with the Star Wars story!
Continue reading »
Given that this week sees the return of one of the biggest current TV shows out there – it's only Lost season 5! I thought that this little parody video of a Lost and Heroes crossover story might give you a laugh and just keep you going until the new, penultimate series of Lost starts.
Continue reading »
One of the great things about World of Warcraft is the fact that Blizzard are always developing this immensely popular game even further to make it a better gaming experience, however I'm not entirely sure about this one!
Clearly the news reporter in question has chosen to use Blizzard's newly introduced ranged attack called the "shoe attack"
Continue reading »