Tag listing for
software application
Mozilla have released Firefox 3.6.2 ahead of schedule today, and it's one that Windows XP and Vista users in particular should get as quickly as possible. The early release of the new version improves stability and fixes a nasty security flaw that left users on XP and Vista open to a bug allowing an attacker to execute malicious code.
This bug prompted Germany's Federal Office for Information Security to warn users to switch to another browser until this bug was fixed, similar to how they told users to stop using Internet Explorer back in January. The 3.6.2 update was rapidly released as the post went live.
Continue reading »
If you're like me, you get sick of seeing the same old idiots invading your TV set with their annoying adverts that usually revolve around some sort of insurance company, or market comparison website and usually singing some stupid song!
However, there is one advert that has become a bit of an exception and frequently makes me quietly chuckle to myself. In fact, Alexandr Orlov has actually become a bit of a TV icon in his own right. For those who do enjoy the founder of Compare the Meerkat's fun phrases and Russian accent, there is now a free app for the iPhone or iPod Touch that allows you to hear said phrases whenever you need something small to brighten your day.
Continue reading »
TotalFinder is a new application for Mac OS X, which allows you to pump your Finder full of steroids (not literally of course, but you see where I'm going with this…) and enhance it with many new and useful features. It's still only in Alpha, but it's stable enough for everyday use, and is now an indispensable tool on my MacBook Pro.
The first thing you'll notice about TotalFinder is that once it's been installed on your system, Finder will have tabs! With tabs styled on Google's Chrome browser thanks to the Chromium codebase, you can easily flick between tabs and save the hassle of having a lot of Finder windows open to carry out your daily tasks. For those ol' Norton Commander fans out there, you can also view your windows in a dual panel mode which is a nice option to have, although one I don't personally use.
Continue reading »
Pushme.to is a free alternative to text messaging on the iPhone, allowing users of the app to send and receive messages from others on the service. At first I questioned the necessity of this application, after all, iPhone users already have SMS and various instant messaging and social networking clients (including Facebook and Twitter) on the App Store right?
After using it for a while, however, I came to appreciate the great service pushme.to offers as an alternative to these apps when you're out of texts – after all, some of the iPhone contracts available on the market aren't exactly generous when it comes to SMS limits. Another useful feature with this service is that it allows people to send messages to registered users from the Pushme.to website.
Continue reading »
Opera Mini 5 beta became available for download on the Android Market yesterday and after a long hands on, I believe it shows a lot of promise as a mobile browser on Android.
Opera has good history on mobile devices such as their Opera Mobile 9.5 browser for Windows Mobile phones, so the first thing that struck me about Mini 5 is that it too has an extremely simple user interface (UI) that's extremely intuitive and makes a lot of key operations in mobile browsing very easy.
At the bottom of the screen, there's a black bar with all the navigation tools you need, and although this may take up valuable screen estate on an already small screen, it's very functional. You have your back, forward and refresh buttons as expected, but the tabs button makes it incredibly easy to add, remove and switch between tabs – much easier than it is on Android's stock browser.
Continue reading »
We've all been there and done it… Not many people can say they've never accidentally deleted an e-mail or an important file, and those who have may not have got it back! With Stellar's Windows Data Recovery Software, you can make sure that those all important files are recovered if you ever lose them or format a drive and forget to backup a file.
Installation was effortless, and I was up and running in no time with no hassle. Unlike most complex applications that are designed for a similar function, Stellar's recovery software is extremely well designed, providing easy access to key functions and allowing even the most inexperienced user to navigate around. You're given five tabs to choose from at the top of the window. When a tab is selected, you're given different functions to choose from and an explanation on how each of these functions work and how to use it. This is especially useful for beginners, and shows how much thought went in to the design process of the application.
Continue reading »
If you haven't heard of Tagcrumbs before, it's a service dedicated to sharing your favourite places with your friends and people on the web, offering a great service when finding things to do around where you are, or just finding new places.
With such a service being well suited to location aware devices such as the iPhone 3GS, it was only a matter of time until Tagcrumbs had an application on the App Store, and it's now available in the store for seven countries.
With the free Tagcrumbs iPhone app, you can recommend a place you've been for others to go, knowing that they'll have a great time. With Tagcrumbs, users can tag places they find, offering great flexibility to users who can recommend and find virtually anything they want that's been tagged by others.
Continue reading »
One of the great delights of Mac OS X on my MacBook Pro is how easy it is to install and uninstall applications and now AppZapper makes it even easier. For those of you who aren't familiar with OS X, when installing an application, all you have to do (most of the time) is drag and drop in to your applications folder.
When uninstalling, you simply drag the application into the trash can. As with any program, however various leftovers remain on your hard drive which are hard to identify amongst the multitude of other files floating around. This is where AppZapper comes in!
Continue reading »
Whoever invented discount vouchers should most probably be a saint…if you look hard enough, you'll be able to find discount vouchers for most stores you'd want to buy from, but it's the looking that's the hard part!
Luckily for us, the VoucherCloud iPhone App takes the pain out of hunting for vouchers by simply offering you choices based on your current location and any category you wish to view.
VoucherCloud is available as a free application on the App Store, if you're out and about you'll be saving money in no time with all the offers in your area that you didn't know about! Presenting offers around your current location using GPS is a great location based service that makes this app a great addition to your iPhone.
Continue reading »
It's the start of another week here on Zath, wow this year is really flying by, but at least it starting to get sunny here in the UK – anyway let's have a quick look back at some of the interesting technology and gadget articles in the past week…
LG InTouch Max (GW620) Review – we've reviewed quite a few LG mobile phone handsets over the past couple of years and now we've had chance to take a proper look at LG's first Android mobile phone, it's perhaps not everything that you might have wanted if you're looking to move from an iPhone, however if you're looking for a good low priced Android handset, then this could be the one for you!
Google Buzz iPhone App Launched – well it didn't take a long did it? You can now get an iPhone app that works as a software client for the latest social network; Google Buzz. I have an iPhone and have looked at the Google webpage app, but haven't really used it. It's good to see separate clients appearing for Google Buzz as it wasn't until I started using clients with Twitter that I properly used that.
Continue reading »
Have you seen the new Tesco Clubcard iPhone App? If you're a loyal Tesco customer like me (well I have a loyalty card, so clearly I must be) and have an iPhone then here's your chance to get rid of one of those numerous cards from your wallet or purse!
Tesco's Clubcard app for the iPhone is a pretty simple one in its current form, you enter your clubcard details into it and it then will display a barcode whenever you load up the app.
Therefore all you need to do when you're next at the Tesco checkout is load up the app and have it scanned at the till instead of plucking out you a card from your wallet or purse or perhaps using one of the keyring barcodes they've also sent out to people.
Continue reading »
It's been a while, probably not since Google Chrome was released to the world, but web browsers are back in the big news again all thanks to Microsoft's EU enforced 'ballot box' for selecting a browser to install.
Also, Net Applications have recently released statistics which paint a very interesting picture about the world of the internet browser and perhaps that of future operating systems with the likes the Google Chrome OS being spawned from the Google Chrome browser.
Unfortunately the situation has been pretty similar for a while: IE have boasted over 60% of the market share for years now, with Firefox edging closer and closer to the 25% mark with the rest fighting over the remains. But that looks like it might change, and in fact Chrome was the only major browser growing in February, and that is before the Microsoft Windows Browser Ballot which promises to change much.
Before we look at why – the figures. Google Chrome is up a significant 0.39% to 5.61%, whilst Firefox fell 0.20% to 24.23% and Internet Explorer suffered the biggest hit with a fall of 0.54% to 61.58%. Opera (0.03%) and Safari (0.08%) both also fell, although seeing as both of them combined fail to make up more than even 8% of the market they are unfortunately not much more than footnotes.
Continue reading »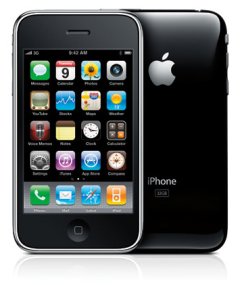 In the past I've written about my experiences of Apple's big iPhone 3.0 software update in which I've had my doubts over useful the update itself was and found that after two months I had to try to restore my (then) iPhone 3G PAYG as I suspected (or hoped) the problems I had were due to some corrupted files and not a hardware fault.
Now as much as I like to do my fair share of Apple-bashing like any decent PC user and coupled with the highly annoying iTunes sluggishness we experience in Windows, I have to admit that they have made managing your iPhone day-to-day in terms of synchronising, backing up and restoring it when needed very simple and effective.
Unfortunately, iPhones are not without their faults, issues and problems like any other mobile phone or mini-computer, the worst one I've experienced a few times now is everytime you try to start an app, it would then immediately crash! Handy eh? Suffice to say, I've had plenty of opportunities to become familiar with restoring and resetting the two iPhones that I've owned so far.
Continue reading »
CleanMyMac is a utility for Mac OS X from MacPaw that helps keep your Mac running smoothly, and recovers disk space from your hard drive by removing files that you don't need on your system. Being a Mac user for some time now, I've become accustomed to just dragging an application from my Application folder to the trash when I no longer want it on my MacBook Pro or Mac Mini.
However, unwanted files are always left behind which were used by whatever program is deleted, and these not only take up disk space, but can cause OS X to run slowly and get in the way of your productivity.
During my testing of CleanMyMac, it has become the most essential utility I've ever used on OS X, and does a great job of keeping my Mac in good shape. When you first open CleanMyMac, you may want to take a look at the various preferences which are available to you, which allow you to select which language translations you don't need for your applications and enable options such as the automatic application uninstaller.
Continue reading »
It's the start of another week and hopefully you've all had a great weekend, I thought we'd begin it with a quite look back at some of the best in hi-tech gadgets and technology blogging that I saw from last week…
Best 10 Free Android Apps For Your Mobile Phone – do you have an Android-based mobile phone? Or are you planning on getting one of the many that are going to be released this year such as Google's Nexus One, LG GW620, one of the new HTC's Desire, Legend, HD Mini or one of the many other Android phones that will be released this year? If so, you'll definitely want to take a look at this list of some of the best free Android apps that are currently out there!
iPhone 4G To Include Front-Facing Camera – another day, another rumour about the upcoming new iPhone 4G mobile phone, this time it surrounds the possibility of a front-facing camera that would allow people to make video calls/conferencing including using Skype. Although that said, these kinds of rumours are just that and nothing might come from them, for instance I wrote about a similar rumour of the 3rd generation iPhone getting a front-facing camera nearly a year ago and then when Apple announced the iPhone 3GS, we were left feeling a little underwhelmed by it all.
Continue reading »
Every Mac you buy comes with the iLife suite: iPhoto sorts and organises all of your photos; your songs are taken care of with iTunes but what about your documents? Well, iLife may not have you covered in that department, but what about all those documents you've got floating around your hard drive? For that you're going to need Yep 2…
Not only does Yep keep track of all the PDF and office document files on your hard drive, but it also allows you to scan documents and file them so they're kept organised and don't take up room collecting dust in a cupboard. When you start Yep for the first time, it will scan through all your documents on your hard drive and display them in an iPhoto-esque window. The great thing about using Yep is that it doesn't interfere with any of your file's paths; it simply indexes them for easy access and you can still get to them without using Yep because you'll still know where they're located.
Continue reading »
Shortly before the new year, Intego's popular anti-virus offering for OS X received an update in the form of VirusBarrier X6, which builds on X5 with new features and a lower price point of £39.95 (ex. VAT) with a standard license that covers two Macs, not just one, so for instance you could protect your MacBook Pro and Mac Mini on one subscription.
If you've never heard of Intego's anti-virus (after all, if Apple had their way, everyone would think that getting a virus on a Mac is impossible, although some people think Windows is Virus Proof too!) then you'll also be interested to know that it can also detect Windows malware in addition to OS X, so if you have a boot camp partition setup, you needn't worry about any viruses on Windows either!
I personally have never had an anti-virus on any Mac I've owned, so I was definitely curious to see if I had anything nasty hiding out on my hard drive that had escaped my attention – coming from years of Windows use before using OS X, it's certainly a strange feeling not worrying about an anti-virus, but I definitely feel more secure knowing that I'm protected even though it didn't find any malware when I left it scanning. The scan took around two hours to complete and was very thorough, which was re-assuring.
Continue reading »
In recent months and years there has been an extremely lengthy and somewhat tiresome squabble between technology giants Microsoft and the European Commission over how unfair it is that Internet Explorer web browser is packed into the Windows operating system and many users never become aware of any alternative such as Mozilla's Firefox, Apple's Safari or more recently Google's Chrome. Anyway, the result of the conflict is that users of Windows PC's will soon be faced with a big decision.
You will be presented with the choice via a selection process that will appear on your PC within the next few weeks. Testing of the process will be next week in several countries including the UK, and you can download it via Windows Update. Eventually though, it will be an automated update that everybody that's connected to the internet, should receive.
Continue reading »
If there's one thing I've learned about Linux in the past week of using it is how versatile it is. I've concentrated on using Ubuntu 9.10 and found it to excel, in many ways, further than Windows and Mac OS X.
Of course Ubuntu is just one of the many distributions available out there, and Linux comes in many forms, including ones you may not expect; even Google's Android OS runs off a modified version of the Linux kernel.
So with so many distributions to choose from, which should you go for? There are too many choices to cover, but there are definitely some main contenders. If you want an experience close to what you're used to with Windows, you may want to consider openSUSE – an easy to use distribution with great hardware support and a Windows-esque start menu to match.
Continue reading »
My first Android powered mobile phone was the T-Mobile G1. Gosh I loved it. With its love or hate plastic build, easy to use functional QWERTY keyboard and all the social networking tools I could shake a stick at Android powered phones were definitely for me. Moving over from the likes of the iPhone 3GS, I jumped at the opportunity to go with an OS which was to me, for the customisation alone, better.
I now have a HTC Hero running Android 2.1 and love it – HTC Sense is no longer there, but some of the perks do remain. I can also cross use my apps which I love so much, that if they were to self delete themselves, I would cry – because quite simply I need them all. And so after testing out apps, Android powered phones and the whole shebang, I have drawn up a list of the top ten free Android apps you should have.
Therefore, if you've got an Android mobile phone such as the Nexus One, here are the all important apps you should take a look at…
Continue reading »