Tag listing for
itunes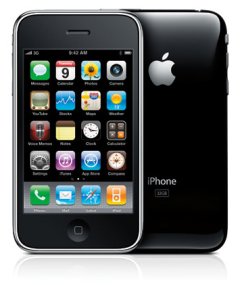 In the past I've written about my experiences of Apple's big iPhone 3.0 software update in which I've had my doubts over useful the update itself was and found that after two months I had to try to restore my (then) iPhone 3G PAYG as I suspected (or hoped) the problems I had were due to some corrupted files and not a hardware fault.
Now as much as I like to do my fair share of Apple-bashing like any decent PC user and coupled with the highly annoying iTunes sluggishness we experience in Windows, I have to admit that they have made managing your iPhone day-to-day in terms of synchronising, backing up and restoring it when needed very simple and effective.
Unfortunately, iPhones are not without their faults, issues and problems like any other mobile phone or mini-computer, the worst one I've experienced a few times now is everytime you try to start an app, it would then immediately crash! Handy eh? Suffice to say, I've had plenty of opportunities to become familiar with restoring and resetting the two iPhones that I've owned so far.
Continue reading »
After deciding to use my laptop has a pretty much permanent home media set up, I decided that I would move my desktop speakers to provide better sound quality than the standard built in speakers when watching movies and TV shows. This left me short on audio in my Mac Mini (Other than the pretty much useless built in speakers). Therefore I went out on the lookout for some low budget desktop speakers.
After recently receiving some Altec Lansing iPod speakers and being sufficiently impressed, I must say I now have great loyalty to the brand. So you can imagine my delight at coming across a pair of desktop speakers that fit the bill perfectly, from the same company. Having looked around at alternatives from other well known brands such as Logitech, the difference in price was minimal, but the deciding factor in opting for the Altec Lansing VS2620 Desktop Speakers, was as much the aesthetic appeal as anything else.
Continue reading »
One of the biggest issues when moving away from Windows is software availability; what we do on a computer isn't defined by the operating system, but the third party software we use on that operating system. Because most of the software written for Linux operating systems is open source, it may be difficult to find a replacement for the everyday software that you use on Windows or Mac OS X.
Web Browsers and Email
Everybody has their favourite browser, and you'll find many available for Linux. I chose to use Firefox (which is installed on Ubuntu by default), Google Chrome (my browser of preference on Windows and OS X) and Opera 10 Browser in addition to this.
When testing each browser, I found them to be on par with each other, although Opera was definitely slower than Firefox and Chrome. I found Chrome to be extremely fast and lightweight in comparison to Firefox, and it remains my browser of choice on Linux. If you make the switch, or already use Ubuntu, I definitely recommend checking Chrome out. Enabling Flash was also an easy process – I simply downloaded the plugin on first use and everything worked great.
Continue reading »
I don't think I need to point out how fast the tech world moves, and that for every new piece of technology there will be one to replace it and the music industry epitomises this brilliantly: LPs, Tapes, CDs and now MP3s. But some of the people who worked on MP3 have come up with what could prove to be the successor: MusicDNA.
In a step up from MP3's which just contain the music (and a little bit of information about the artist, track title etc) MusicDNA will allows for a whole host of different types of related data to be carried in the same file as the music, things such as lyrics, videos, artwork and blog posts.
Continue reading »
So with the Apple iPad having finally been confirmed, anyone and everyone has been having their say on various tech blogs and sites around the web. So what sort of reception has the supposed blockbuster device had over the past couple of hours? Have Apple blown our minds again? Or have they finally dropped the ball?
Well… I think it's fair to say that the general consensus is that it's not a lot more than a giant iPhone (or perhaps I should say an iPod Touch). The guys over at Engadget have been lucky enough to get a hands-on with the iPad and they describe it as 'not light' and 'pretty weighty in your hand'. An extraordinary amount of readers left comments expanding on this, going on to say "The thing is really an oversized iPhone, Apple finally fails". It certainly makes interesting reading. Such a device coming from a company that is usually so reliable when it comes to wowing us with revolutionary devices.
Continue reading »
Today is the day that Apple fans have been craving for the past few months, and depending on what is released… perhaps years.
The event began with the man himself, Steve Jobs, giving a few updates regarding the state of the company as we speak. 50 million visitors to the 284 Apple stores worldwide last quarter. 140,000 iPhone/iPod Touch applications in the App Store and over $15 billion in revenues in 2010 alone. So what was announced?
Only the much rumoured Apple iPad Tablet device!
Continue reading »
Daniusoft Media Converter Ultimate is a program designed to do a host of things with your media files, from ripping and burning DVD's to removing the DRM off iTunes downloads. You'll definitely have a tough time finding more features in another media suite, but how does it hold up against other programs of its nature?
The feature of this media converter that intrigued me the most when I first saw it was the DRM removal tool. This especially piqued my interest as I download a lot of content from the iTunes store, including HDTV shows and podcasts. To me, being able to convert high definition content is a must in any such program, so I was naturally skeptical when adding my files to the conversion list.
Continue reading »
Awaken is an alarm clock application for Mac OS X, that comes with more features than you may expect from such an application, and certainly beats other alternatives on the market. Before I came across Awaken, I used Alarm Clock, a free and simple application that did what it said on the tin: played music through my speakers at whatever time I wanted! I found the application to be somewhat unintuitive, and at times buggy, so I went on the hunt for a replacement and came across Awaken.
In a market where there are many free applications that do a simple job, you may wonder why you'd pay $10(CAD) for an alarm clock application, but when using it I felt that the interface was significantly more polished than other similar applications, and offered more options as a whole.
Continue reading »
Android's been in the news a lot so far this month, with the release of the Nexus One just before CES 2010 and with more devices on the way, there hasn't been a better time to switch to Google's open source mobile phone platform. The only thing putting me off the purchase of an Android device has been the inability to take my music with me. My iTunes library is over 32GB in size, and the Nexus One comes with a measly 4GB storage via MicroSD, which caps out at 32GB.
For me to be able to carry around my music with me is essential in my decision to purchase a new device, and it seemed that my only option was to sync only certain playlists at a time, which is inconvenient at best. Why Apple don't have an iTunes streaming application for the iPhone is a mystery to me, but why Google themselves don't is a major question, with Google being very cloud-centric in their future plans.
Continue reading »
After deciding that I would like to convert my large collection of .flac lossless music to apple lossless format so I can organise them all in iTunes, I was faced with the task of finding the best software for the job. I started by using Foobar2000 to convert them via .wav, however I consequently lost all of the ID3 tags on the way and had to manually add them in through iTunes which was unsurprisingly tedious.
Enter DbPowerAmp Music Converter. I came across the software package after some extensive Googling and browsing of related forums and decided it was the most attractive option when compared to rival software. I immediately downloaded the trial and eventually got my hands on a full license.
Basically the package consists of several applications. As well as the music converter there is also a CD ripper and a batch converter. Personally, the only one I use is the latter of the three as I use iTunes itself for the CD ripping and I prefer to do my conversions in bulk as it is much less hassle.
Continue reading »
More people today are using Mac's than ever before – OS X market share has been climbing steadily since the release of Mac OS X, but third party software is just as important as the OS it's running on, so what do you need to put on your Mac?
Web Browsers
Every new Mac comes with Snow Leopard pre-installed, which gives you Safari 4 out of the box. If you're on an older Mac or just don't like Safari, there are a host of alternatives available. I have three browsers installed on my Mac, but often use Safari. If you want to customise your browser then I recommend Mozilla Firefox, my PC and Linux browser of choice. As well as offering plugins and add-ons that allow you to make the browsing experience more personal, it's open source too. You could also try Google's Chrome browser for OS X. It's been unofficially available for quite some time now, but the official Google Chrome Beta was released a few weeks ago and it's very speedy and takes up less system resources than Safari.
Continue reading »
It isn't that long ago that iTunes was simply Apple's audio player. Somewhere to stash and organise your MP3 files and sync them with your iPod. That was pretty much it. Nowadays however, it manages your video files organising movies and tv shows, as well as podcasts, apps for your iPod/iPhone. You get the picture. The name iTunes really doesn't do it justice anymore.
Many of you may have updated to iTunes 9 already, in fact you probably will have done after being prompted by the software update at the time of release. But in case you haven't, or in case you've missed something, this is what's new in iTunes number 9.
Continue reading »
CD Art Display is a fantastic program for Windows which is free for download and is a nice addition to your desktop and iTunes library. Although it is not stuffed full of features and functionality, it does exactly what it promises and all in all, it does it very well in a similar way to CoverSutra on Mac OS X.
Basically, the application is designed to simply display your album artwork and song information on your desktop. Pretty much exactly as the name suggests. It is neat and compact so does not clutter your desktop at all.
By default, the text is displayed clearly, on a transparent background, therefore it blends in even more to your desktop. Depending on the extremity of colour on your desktop wallpaper, the text should be clearly visible.
Continue reading »
SonicSwap is described as an iTunes playlist widget. It's an add-on to iTunes for OS X that provides extremely simplistic usability for even the beginners amongst us. The app features several useful features that all worked extremely well for me and best of all, it's available as a free download from the downloads section of the Apple website.
Basically, the main feature of the widget is the simplification of the iTunes interface. It sits neatly upon your desktop and allows you to control your tracks and volume etc. without having to bring up the bulky and sometimes laggy iTunes interface.
I have to say, that it doesn't feature such an attractive look as most other OS X apps, it just doesn't follow the usual style of apps. However, its functionality is key and it delivers all that it promises. Ok, so you could just leave the iTunes mini player upon your desktop, it would provide the same basics, however, with SonicSwap, not only are the navigational buttons displayed, artwork and track details are listed too without taking up a sizeable chunk of your desktop.
Continue reading »
You may have caught our look at the Dropbox online file sync service for Windows, Mac OS X and Linux a few months back, where I mentioned its availability on the iPhone platform. If you're a user of Dropbox and have an iPhone or iPod Touch then you should definitely check out the free Dropbox app on the iTunes App Store.
When you've downloaded Dropbox, you'll need to enter your email address and password to sync it to your account, and everything on your personal storage will be available to download and view. The interface is extremely simple to navigate, with 3 options at the bottom of the screen allowing you to switch between "Favorites", "My Dropbox" and "Settings".
Continue reading »
You may have seen my earlier article on CoverScout, the app which can pluck all of your album artwork from the Internet and attach it to your tracks in iTunes. I mentioned SongGenie in there as an app which furthers the capabilities of CoverScout by adding in all of your track information. You do need both to make all of it happen.
The app is a simple one, it works very similarly to CoverScout by collaborating with your iTunes library and scouring the internet for all of the relevant song information such as Artist, Album, Track Numbers etc. and generally cleaning up your iTunes library. For me there is not a lot worse than seeing a list of tracks which are called 'track 1' etc. and this is the answer.
Continue reading »
You may have seen my review quite a while ago now on TuneUp, the Windows program designed to find and sort all of your iTunes artwork appropriately. Well, CoverScout does just that, but for Mac OS X.
The app works alongside iTunes, not very discreetly I might add, but it doesn't ruin the whole look and feel of OS X and iTunes. With just a few clicks you can have CoverScout scour your entire library for missing artwork and inserting high resolution artwork as it goes. Not only that, the integrated editor allows you to alter the artwork in terms of cropping them, scaling them to fit the consistency of your collection.
Continue reading »
Get Lyrical is a useful app for those of us who like to sing along to songs no matter whether they are our favourites or not. There are some songs you can sing with your eyes closed and there are those that you can't. But Get Lyrical is an app for OS X that can provide lyrics to all of the songs in your iTunes library.
Gathering the information from lyrics.wikia.com, the lyrics are not always 100% accurate in the same way that Wikipedia isn't. Therefore it makes sense for the developer of this app to add in an editor which allows you to easily alter the lyrics that it places upon your tracks. This is a good feature, although in the short time I have used the app for my library, I have not come across any obvious mistakes with the lyrics.
Continue reading »
FluidTunes is an interesting app available for Mac OS X that promises so much, but in many ways fails to deliver. The app is intended to allow you to control your iTunes library using hand gestures, much like the multitouch technology seen in a handful of modern PC's, however this is using your built in iSight camera, meaning you don't have to touch the screen.
The app keeps in tradition with the majority of OS X apps with its stylish interface, using a similar look to the CoverFlow view built into iTunes and on most iPods, such as the iPod Touch. There is only one view on this app which displays all of your album artwork in the usual fashion, as well as the play/pause, stop and skip track buttons for navigation through your tracks.
Continue reading »
Many call Foobar an audio player, but that really doesn't do it justice. In truth it is so much more than that. Although, it can be said that programs such as iTunes are more than audio players. However, do not be mistaken, this is no iTunes.
On with the review. Firstly, the first thing that impressed me with Foobar2000 is that upon installation, you are left with a couple of options. The first is a standard installation of the application; whereas the other, the portable version which allows you to run it on the move from your pen drive, much like the apps mentioned in the review of PortableApps.
Personally, I chose the standard installation as this was what I required. Upon loading the program for the first time, you are faced with a menu allowing you to change the basic layout of foobar. This is useful as it allows you to customise the display to show such panels as visualisers, playlists and also the colour scheme of the entire program. I liked this feature as it means you can almost make the program your own from the start.
Continue reading »