Tag listing for
amazon
Although unseasonably warm weather continues to hamper high-street Christmas sales, and another recession still looms ominously in the background, people are already well into the mindset of deciding what they would like and it seems that 'all they want for Christmas' is a gadget. And preferably one with a small silver Apple on it.
Yes it's that time of year already when the consumer gloves come off and the annual hotly contested competition for the highest Christmas sales begins. Last year we saw Apple leading the way with the iPad being the most desired gadget followed closely by the iPhone 4 with the Kindle, TomTom Sat Nav and the Sony Playstation Move bringing up the rear. Now vouchercodes.co.uk have surveyed the same number (3,000) of people again and the results show a very interesting trend.
Continue reading »
Are you still getting over the immense disappointment of not being able to ask Father Christmas for a Kindle Fire this month? Unfortunately that's not going to change before the year is out, but you may well be able to get hold of one as early as next month if reports from Know Your Mobile are to be believed.
Unfortunately, Know Your Mobile's source didn't divulge any information regarding pricing or even a precise release date, but considering how well Amazon's aggressive pricing strategy has worked in the US since the release of the Fire on the other side of the pond, you can bet that it will be priced significantly lower than the iPad to attract consumers away from the world of Apple.
Continue reading »
Amazon has just unveiled their rumoured tablet, the Kindle Fire, at a press event today, and it certainly hasn't disappointed. Not in the US anyway.
Running a heavily modified version of Google's Android and packing a dual-core processor, the Kindle Fire will allow you to do all of the things that you would do on any other tablet. You can browse the web (more on that in a little while), download apps from Amazon's own app store and consume as much media as you can handle.
Continue reading »
Not a fan of touch? Fear not! Amazon hasn't left you behind just yet. In addition to launching two brand new "Kindle Touch" models today, the US company has also announced an update to the traditional Kindle.
Like the new touch models, the latest generation Kindle no longer has a physical keyboard. Instead, users will have to search content and use the built in browser using a virtual on-screen keyboard which will be controlled by the 5-way controller beneath the screen. In short, if you use the keyboard on your current Kindle a lot, you won't want to upgrade to the new model anytime soon.
Continue reading »
And we thought today was going to be all about Amazon's new tablet! Au contraire, the e-ink Kindle is still very much with us, and it's received a great update today as it enters the world of touch.
Gone is the physical keyboard reminiscent of the previous generation, and as a result the new model Kindle is 11% smaller than the last. It's also a little bit lighter, shedding 8% of its weight.
The new generation e-ink display is, according to Amazon, their most advanced, although given that they've had a year to improve on the last generation that shouldn't come as too much of a shock.
Continue reading »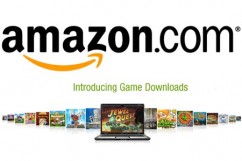 In case you needed reminding, digital downloads are the future. I definitely subscribe to that vision, and clearly so does Amazon. In the wake of it launching its own Android app store, it's come to the PC game distribution party in a bid to rival the likes of Steam, which has dominated the market for years now.
Having been made available in the US over 2 years ago, the store has a sure foothold in the industry already, however it's also been a long time coming to the UK, with many users still having to wait for the postman to arrive with the new title they're itching to play. It's a terrible period of waiting once you've ordered a game online to the actual delivery, so as long as your broadband has the clout, then this is a preferable method.
Continue reading »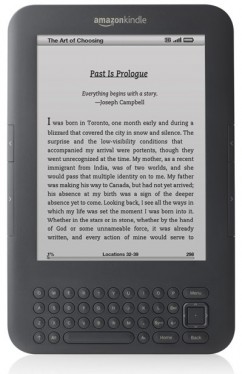 Back in 2004 when Sony pioneered the impending gigantic, yet partial, shift from physical books to electronic ones by adopting, for the first time, e-ink technology in its LIBRIé reader, the premise was simple: this was a device that you could take anywhere, read anywhere just like a normal book, yet consolidate your entire collection onto a microchip. It's much the same principle as the iPod or any other portable media player.
Whilst Sony was the first to adopt the electronic paper tech, it was Amazon who certainly made great strides with eBooks in its Kindle e-reader device and service, and since then the market has never looked back and eBooks are now outselling their physical counterparts on Amazon.
For the past few years, this notion has been kept relatively straightforward. The core technology behind the devices has always been the same, despite a few aesthetic changes or enhancements here and there, not really having a dramatic impact on day to day usage of eBook readers. Now, though, the industry is changing phenomenally quickly, and more and more manufacturers are attempting to converge eReaders with tablets. And it's wrong.
Continue reading »
Amazon has been growing its arsenal of tablet worthy software and services for some time now, and from a business standpoint it makes perfect sense to enter a market in which it is already so familiar. With the Cloud Drive, their controversial cloud-based music streaming service already available, and a number of other digital distribution networks for the many forms of media commonly demanded on tablets, Amazon is all set to head straight to the top of the increasingly congested tablet market, with a potentially impressive combination of tablet hardware and software.
One of the key services that will undoubtedly be implemented onto an Amazon tablet will be Kindle functionality. Amazon's eBook service is far and away industry leading, it sells more eBooks than physical hardbacks now, and is already hosted on its own hardware as well as being available as an app on every other device under the sun (almost). But could this be a hinderance to the large scale adoption of an Amazon tablet?
Continue reading »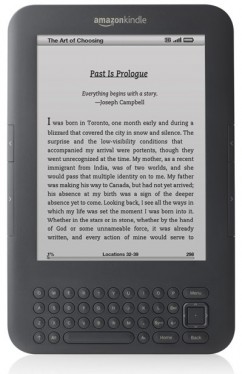 The eBook lending service Overdrive has been distributing digital content via the web for over a decade now, and has gathered an enormous arsenal of digital content in the form of eBooks, audiobooks, music and video, that amounts to over half a million titles. For years now, it has focussed intently on the eBook arena, and offering an old-fashioned library-style approach to lending books in the ePub format – an open and widely adopted format for eBooks – in contrast to the Amazon Kindle's proprietary system based on the Mobipocket format. There are many issues with this, namely the debate over DRM restrictions placed on them. Anyway, let's cut to the chase, shall we? Amazon is now partnering with Overdrive to offer US users, at least, the opportunity to borrow books for a set period of time in the .mobi format for their Kindles.
Continue reading »
Well, well, well… what do we have here? Apple are holding an event at 6PM British Time tonight, presumably to launch the new iPad 2, but it looks like Amazon has been a little eager in getting the new tablet out there and ready to sell.
Your Daily Apple reports that a reader has sent them a screenshot of the new tablet on the German Amazon store.
It has since been taken down, but was listed as coming with a 1.2GHz processor, presumably dual core, and a Thunderbolt port to match.
Continue reading »
Amazon has got some good news, and some bad news for all you Kindle owners today! The good news is that if you possess a latest generation Kindle (3), Wi-Fi or 3G, then you can head over to Amazon's website to download a brand new update for your device!
The bad news? If you happen to own a 1st or 2nd generation Kindle, or Kindle DX, then you're unfortunately out of luck for now, as Amazon has seemingly excluded these devices from the latest update.
So what does this brand new update come with? The main talking point is the addition of real (no, really!) page numbers for many of the books that you own. For years, us early adopters have had to struggle with 'locations' and percentages to see where we're at in our books, which makes it virtually impossible when someone tells us how 'there was such a good moment on page 319′.
Continue reading »
Amazon has today announced that it has reached an agreement to swallow up all remaining shares of movie rental and streaming company LoveFilm.
It's really that simple from our point of view, but obviously from a business perspective on their side of the fence it's a great deal more complicated, although in truth we don't need to get into that, we can leave it for the experts.
We recently saw news of LoveFilm movie streaming coming to the PS3 here in the UK – much like the US-based service, NetFlix, which operates an entirely similar service to LoveFilm in the US.
Continue reading »
The Amazon Kindle App has already strutted it's stuff on the major mobile platforms as well as the desktop and of course, the Kindle eBook reader itself. Now, though, it has launched on Windows Phone 7, the latest in a line of mainstream mobile operating systems.
In terms of features, the application is identical to Android and iOS Kindle App, though navigation is a little different making use of the Metro UI, and I have to say it works well.
Continue reading »
As the title suggests, Amazon has today released it's annual sales figures, and perhaps it leads way to revisiting where it all began. Back in 1995, the relative dark ages of the technology world, Jeff Bezos founded Cadabra, inc. The name was changed to Amazon.com soon after for various marketing related reasons and in the beginning, all that was sold was books. Just books.
When you look now, it is hard to believe such humble beginnings are not a fairytale concocted by the very best PR guru's, but no word of a lie, the gargantuan online department store, which annually records sales of over three times the second biggest seller, Staples, in the United States, was once a diffident online book retailer.
Since then, we have witnessed the rising of certain fads which have snatched sales records. SuBo, for example, was the fastest selling item on the site here in the UK, and Harry Potter blasted its way to stardom setting the precedent for sales figures on the site.
Continue reading »
eBooks are becoming increasingly popular, in fact Amazon are selling more eBooks than physical Hardback books, clearly being able to carry all your book collection around on a small, portable device is a welcome and convenient option to many people these days.
So with that in mind, which are your best options for an eBook reader? Well to determine a list of the very best e-readers, it is imperative to understand exactly what factors contribute to the overall experience of using an e-reading device.
There are of course the obvious, such as size, weight and ergonomics, however it is important to consider other aspects too, such as the screen contrast, reflectiveness and any additional software features a device may have.
Continue reading »
Amazon and Apple had better watch out, there's a new competitor in the e-book market that goes by the name of 'Google' and apparently it means business! We've been expecting a move in to the e-book market from Google since the launch of the Amazon Kindle and other e-book readers were a great success. The Kindle is still the most wished for and most bought item on the Amazon website, and the iPad is quickly becoming a large e-reading platform too.
How can Google differentiate itself from the existing competitors then? Amazon has an incredibly large selection of books that is growing by the day and Apple has the iPad and iPhone serving as a platform for iBooks. The one thing both of these manufacturers have in common, though, is that they rely on a single platform.
Continue reading »
There's no doubt that the e-reader market is ready to grow at a staggering rate in the next few years. Amazon have now released three versions of the Kindle, most recently the Kindle third generation managing to impress us just as much as the Kindle second generation did back at the beginning of this year.
Add Apple's iBook store alongside the iPad tablet device into the equation and you have quite the war brewing. What about other third parties hoping to make an impact, though? Can they match up to the big boys in terms of both price and functionality?
That's just what the BeBook is trying to do, so we decided to take a look for ourselves, to see how it performs.
Continue reading »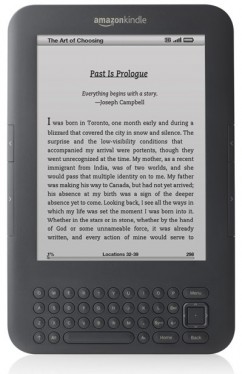 The e-book market has certainly forced itself in to the limelight in the past year or so. Apple released the iPad, along with the iBook store, Barnes & Noble has recently announced an e-reader / tablet hybrid, and Amazon has released the latest version of their Kindle.
Is the Amazon Kindle 3 enough to compete with these new entrants though, or does it risk falling behind against competition that sacrifices battery life in favour of additional features? Let's find out…
Continue reading »
I have to admit that with this article I am breaking a rule of mine not to think about Christmas before December, but as the consumer lifestyle we contribute to continues to extend the festive season further into Autumn each year it's very hard to stay separate from it… especially when it comes to gadget presents!
The most recent additions to the already significant amount of analysis as to what will be big as Christmas gift ideas for 2010 are covered by the results of a recent survey into what people in the UK are really hoping to find in their stockings (gadget-wise) this year, and it certainly makes interesting reading especially for Apple and Microsoft fans.
Conducted by VoucherCodes.co.uk the survey asked 3,000 UK consumers what their "most desirable Christmas gadgets for 2010" were and the results are definitely interesting, if perhaps a little unrealistic.
Continue reading »
Now it wasn't long since the new Amazon Kindle (3) was announced and having been released at an aggressively low price-point earlier in the week, it is hardly surprising that the competition was hot on the trail. Now it's Sony's turn and the new range of e-readers seem a fair improvement over what has gone before.
Firstly, the two new Sony e-Reader models both feature a new, slimmer aluminium design and all new touch screens, meaning that not only are they more attractive to look at and lighter to hold, they may finally have provided a more acceptable and functional touch screen to work with after the development of optical touch screen technology designed specifically for reading. You seldom see an e-reader with a decent touch screen, and before Apple iPads start racing through your mind, I'm talking about dedicated e-readers here. So, it will be interesting to see whether or not Sony have finally made a real Kindle competitor for the European market.
Continue reading »