Category listing for
TV/Movies
Netflix may have taken the US market by storm when it launched years ago to much fanfare and subscribers, but if LoveFilm has anything to do with it, the Netflix UK launch won't be as easy for the North American company.
In response to Netflix's launch of a £5.99 / €6.99 streaming package in the UK and Ireland, LoveFilm, which was recently bought by Amazon, has responded immediately by cutting the cost of its own streaming package to £4.99.
Continue reading »
After years of uncertainty and waiting whilst we watched our friends on the other side of the pond enjoy streaming services, Netflix has finally launched in the UK and Ireland! From today, anyone can head over to the Netflix website and sign up for a month's trial completely free of charge so that you can try out its services and see what the company has to offer on its UK movie catalogue.
Once you've signed up, you will be able to choose from a catalogue of both movies and TV shows, although the content appears to be somewhat limited at first glance, perhaps due to content already tied up in contracts with LoveFilm. Whether content providers will choose to add more shows and movies to the service in due course, and how many may be added, is yet to be seen.
Continue reading »
Since finding out that Star Trek: The Next Generation was undergoing a serious remastering and high definition transfer to Blu-Ray in September, I've been very eager to see more footage when the sample disc was released at the end of this month.
Don't worry, those three episodes are still coming right on schedule at the end of January, but CBS has decided to give us a little sneak peek of what we can expect from the transfer. The video contains scenes from 'Encounter at Farpoint', the pilot of The Next Generation, and shows the previous standard definition version next to the newly remastered high definition version side by side.
Continue reading »
Ever since the original Star Trek series was remastered and released on to blu-ray in 2009, there have been countless rumours of The Next Generation receiving the same treatment. Now, its release has been confirmed thanks to a post on startrek.com.
The Next Generation on blu-ray won't be hitting our shelves until 2012, and even then it won't be coming all at once, but there's a good reason for this. Instead of simply upconverting the existing content and throwing it on blu-ray to make a tidy profit, the producers of the new blu-ray version are using the original 35mm film and working through over 25,000 reels of footage to make the video look as good as possible.
Continue reading »
Amazon has today announced that it has reached an agreement to swallow up all remaining shares of movie rental and streaming company LoveFilm.
It's really that simple from our point of view, but obviously from a business perspective on their side of the fence it's a great deal more complicated, although in truth we don't need to get into that, we can leave it for the experts.
We recently saw news of LoveFilm movie streaming coming to the PS3 here in the UK – much like the US-based service, NetFlix, which operates an entirely similar service to LoveFilm in the US.
Continue reading »
This is official! Catwoman and Bane are definitely going to make an appearance in the final installment of Christopher Nolan's Batman film The Dark Knight Rises.
So who will be playing these characters? People have been guessing at what role Tom Hardy will be playing in TDKR. Well guess no more because he's set to play Bane. The giant bruiser who once broke Batmans back. I can hear a few people wince at the sound of the character Bane after Joel Schumachers lovely portrayal of the brute in Batman & Robin………..moving on.
Continue reading »
It's been a long time coming, but first we had the official announcement of Lord of the Rings: Extended Edition Blu Ray and now George Lucas' epic sci-fi saga, Star Wars is making it's way to glorious high definition on Blu-Ray, now with an official pinned down release date.
All six of the Star Wars Blu-Ray Movies have been remastered and are set to be released on 26th September 2011. There will be a trio of box sets available, the first of all being the whole shebang with new deleted scenes and extras amounting to a full 30 hours on top of the saga of movies.
Continue reading »
Harry Potter And The Deathly Hallows: Part 1 (12A)
Cast: Daniel Radcliffe, Emma Watson, Rupert Grint, Ralph Fiennes, Helena Bonham Carter, Tom Felton, Jason Issacs, Robbie Coltrane, Alan Rickman, Brendan Gleeson
Running Time: 146 minutes
Director: David Yates
Here it is. The penultimate film of the Harry Potter phenomenon. Some people were a bit unsure as to whether splitting JK Rowling's final book into two films would be the best idea. But from watching the film and being a massive fan of the series, I'm glad they did…so far.
The general consensus has been that Part 1 of The Deathly Hallows was good, but lacked that extra sparkle to make it the magical film we were all hoping for. But given the story, I'm glad it's been done like this to let everyone know what Harry, Ron and Hermione have got themselves in for.
Continue reading »
We reported not so long ago that an Uncharted film was being made based on the massively popular series developed by Naughty Dog. When I first read the news, I was really excited and thought that Uncharted could be the film to break the barrier of the whole, movies about games are crap, conundrum.
Well no longer. It's been announced that Mark Wahlberg will be playing the part of Nathan Drake with the possibility of Robert De Niro playing his father and Joe Pesci as his uncle…..are you friggin' kidding me?!
Continue reading »
This has been coming for a while. With the Back to the Future Trilogy being re-released on Blu-Ray and the first film having a re-release in the cinema, it's no surprise really that a new game is being made of the cult classic.
I'm a huge fan of the films and am quite excited by what I've been hearing about the game, which is being developed by Telltale Games. If you've not heard of them before, they're the genius' behind the most recent Monkey Island game, the Tales of Monkey Island which was released as a digital download in 5 episodes.
Continue reading »
It was announced last week that the film rental company LoveFilm, will be heading on to the Sony Playstation 3 console from next month.
A video was published on the PS3 YouTube channel and just as quickly taken off, but enough was seen to show people that Lovefilm will be heading this way in autumn and will allow users to download films straight to their PS3.
I signed up for Lovefilm a good 18 months since, and think it's definitely money well spent, especially since there are no late fees allowing you to watch your films at your leisure. But of course you have to return your current discs to receive a new film through your letterbox. The deliver service is incredibly fast so you only wait a couple of days to receive your film.
Continue reading »
Illegally downloading TV shows is a growing trade here in the UK, particularly US TV shows which may take months to arrive in the UK, if ever. However, a new show to hit the US, called Nikita, is looking to change the increasing theme of TV piracy.
So how is it going to achieve this feat? Because with thousands of UK pirates regularly downloading their favourite shows for free from various sites around the web, it is going to be some feat persuading them to pay for content, isn't it? Well, perhaps the attraction of downloading shows in an easy way just a single day after the initial airing on US TV, exclusively on iTunes will change at least some minds.
Continue reading »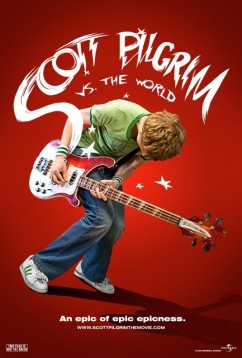 Scott Pilgrim Vs The World (12A)
Cast: Michael Cera, Mary Elizabeth Winstead, Kieran Culkin, Chris Evans, Brandon Routh, Anna Kendrick, Alison Pill, Jason Schwartzman
Director: Edgar Wright
Running Time: 112 mins
Before I start with the review of the film, I'd just like to say that I've never read any of the Scott Pilgrim comics as they never really interested me as I'm not a comic reader. But after watching the film, I think I may have to purchase the comics and give them a read. The film is quite simply, superb.
The film follows Scott Pilgrim who is the bassist in a band called 'Sex Bob-omb' and has just recently broke up with his girlfriend who crushed his heart. He starts dating a girl called Knives Chau on the rebound who becomes obsessed with Scott, only for Scott to then fall for new girl on the block Ramona Flowers, who is the girl of his dreams. But in order to be with her, Scott must first defeat 'Ramona's 7 evil ex's'. Cue one of the best films I've ever seen!
Continue reading »
Times have certainly changed in the past couple of decades, even in recent years when it comes to long distance relationships…and why is that? Well obviously I'm referring to the technology that's available to us all these days!
Now I'm not entirely sure how much this particular aspect will be explored in the latest Drew Barrymore film that will be coming out in the next couple of weeks called 'Going The Distance', obviously I'm sure they'll probably be concentrating on the romantic comedy aspects of the situation they're presenting us with, from a technology point of view, it might be interesting to see how a film depicting this kind of situation might have changed over the years.
Continue reading »
Sky Sports subscribers brace yourself, because what I am about to tell you is not the best of news. Your subscription to the nation's favourite sports broadcasters dedicated sports channels is awaiting the imminent arrival of a £3 per month price hike. Sky Movies too, but the increase is a slightly more modest £2.50 increase.
This increase is happening just after Sky TV has made Sky Sports News an exclusive channel to their broadcasting network and having removed it from the other platforms such as Freeview.
They've also moved some of the premium sports content, such as the Soccer Saturday, their live football scores program with Jeff Stelling to Sky Sports News, therefore stopping non-Sky viewers from watching it on Sky Sports 1 on other platforms, something that has annoyed many sports fans without a Sky subscription.
Continue reading »
Here are two of the more interesting Apple rumours flying around the internet today: Apple are reportedly in talks with networks in the US over bringing 99 cent TV rentals to iTunes according to Bloomberg. Apparently, this deal stretches out to News Corp's Fox Network, CBS, NBC and Walt Disney, where Steve Jobs is a shareholder.
This means that shows such as Chuck (NBC), Fringe (Fox), and Two and a Half Men (CBS) will be available for rental in the US "within 24 hours" of being aired. For US users, being able to rent an episode for just 99¢ (around 64p) would be great for devices such as the iPad when users are on the go. Like current TV purchases from the iTunes store, the episodes will be free of commercials, although I for one wouldn't mind seeing a super cheap option with ad-support, but maybe I'm just crazy.
Continue reading »
Usually I would be one of the first to make my disapproval public when a company decides to turn a game into a movie. They're seldom a real success and traditionally gaming doesn't translate well onto the big screen in my opinion.
However, an interesting statement made by Rovio, developers of popular the Angry Birds iPad and iPhone game app, regarding a movie of the game has my ears well and truly pricked up.
Continue reading »
Knight & Day (12A)
Cast: Tom Cruise, Cameron Diaz, Peter Sarsgaard
Director: James Mangold
Running time: 109mins
When compiling a list of 'movie stars' two of the names that would jump right to the top of the list are those of Tom Cruise and Cameron Diaz and whilst it is fair to say that neither are any longer at the peak of their career at 48 and 37 respectively they are still enough to base a film around… but perhaps not completely which is what, to an extent, this film does.
How much you enjoy this film completely depends on what attitude you take towards it: over in the states where it was released back in June it was almost universally slated as being incredibly poor in almost all areas (apart from interestingly the soundtrack) and received large amounts of criticism for relying completely on the laurels of the two main actors and ignoring things like a good plot, or building the characters.
Continue reading »
It's like all the 'old skool' films are all getting the Blu-Ray overhaul, we've already recently reported on the Star Wars, Back to the Future releases being announced, and now we can expect the Alien Anthology on Blu-Ray this year too.
Heck, if it keeps going like this, we might even see Indiana Jones on Blu-Ray fairly soon? – which is obviously going to happen at some point you'd think wouldn't you?
I'm not a big fan of Alien 3 or Resurrection as they failed to live up to the standards of the first two in my opinion but I'm sure there's a few of you who disagree with that completely. I still haven't bought the set on DVD so think I'll just wait for a bit and buy the Blu-Ray editions instead.
Continue reading »
It was only really a matter of 'time' before they decided to release the Back to the Future Trilogy on Blu-Ray!
I still remember going to see Back to the Future Part III at the cinema, and of course I bought the DVD trilogy on the day of release, so I'm quite tempted to buy the Blu-Ray versions as I'm a big fan of the films seen as I'm an 80's kid. I may not like 80's music, but my God they made some good films!
There's going to be two different versions of the Back to the Future Trilogy available on the release date of 25th October 2010…
In the Back to the Future Trilogy Collectors Tin, as well as the features listed below, you will also get a Delorean blueprint, an 'Outatime' number plate, the Sports Almanac, a 'Save the Clocktower' poster and a lenticular photo of the Mcfly family which is definitely worth thinking about because I'm a bit of a nerd and like my collector's items.
The Back to the Future Standard Edition has all the features listed below and will be the token Digipack which seems to be the norm for most Blu-Ray's these days.
Continue reading »