Category listing for
Tech
As anyone who's watched Peter Pan will tell you, pirates aren't that nice a group of people, they aren't usually like the harmless Pirate Bay guys or lovable rogues such as Captain Jack Sparrow. Unfortunately as you probably know the real pirates are going through a bit of resurgence with the snappily named International Chamber Of Commerce's International Maritime Bureau reporting 430 pirate attacks worldwide, up 24 from the previous year.
The main problem is that they prey upon ships that aren't prepared for any kind of confrontation: whilst the pirates are armed with guns and other assorted modern weaponry, shipping agents can't afford to arm their vessels – and that's where BAE Systems have come in with their latest development to help tackle this growing problem in the form of a massive laser.
Continue reading »
A full two years ago we brought you the first incarnation of the SteelSeries' World of Warcraft Mouse which we really enjoyed here on Zath and since then the company have been taking in feedback and doing a bit of R&D to come up with the World of Warcraft: Cataclysm MMO Gaming Mouse which aims to not only match, but exceed the benchmark left by the first one.
It doesn't really take a genius to see that they have done a pretty good job: whilst the aesthetics clearly resemble the previous mouse (especially in the amour-like top) they have been improved to offer a slightly more rounded appearance, and the gold colour certainly makes it look that bit more exciting and lively and certainly looks the part as it ties in with the recent World of Warcraft: Cataclysm expansion pack.
Continue reading »
If you currently reside in the US, or you're just someone like myself who tends to keep up with the news from afar as well as on our own doorstep, you will be aware that US cellular network Verizon Wireless yesterday announced that they would be carrying the iPhone 4 from February.
If you weren't aware of this, the chances are it has no relevance to you anyway, or you just don't care. However, there was one interesting development yesterday, and that was that the Verizon iPhone would support personal hotspot functionality! Which is essentially the same as what you've been able to do on an Android mobile phone tethering for quite a while now, sharing your 3G network to Wi-Fi capable devices.
Continue reading »
It's been two years since Light Peak, Intel's super-fast, 10Gbps USB killer, was shown off on a Hackintosh running OS X, and it got lots of people excited about the possibility of Light Peak arriving on Macs and other computers in 2010.
Of course now we're in 2011, and we know that the 2010 estimate was wrong, but just how far away are we from using Light Peak to connect all of our external devices and monitors to our computers? According to PC World, LaCie's senior engineer, Mike Mihalik, discussed the upcoming technology following a period of no news after Intel also demoed the technology with LaCie in 2010.
Continue reading »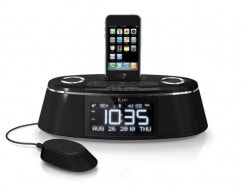 The first thing you'll notice about the bed shaker alarm clock is that it incorporates two things that have become increasingly prevalent over the last few years: it is an iPhone/iPod alarm clock dock (of which there are literally hundreds and hundreds of different types) and secondly it shamelessly uses the prefix lower-case 'i' in front of the iPod related product name.
Fortunately there is something different about the snappily named iLuv iMM178DAB Dual Alarm For iPhone & iPod and that is the somewhat novel way to help wake you up in the morning – much like an Army drill sergeant this alarm clock will shake you awake.
Admittedly this is a bit (ok, a lot) of an exaggeration but the principle is the same: instead of relying on sounds to wake you up you can opt for the 'Bed Shaker' which although sounds very, er…, exciting simply vibrates either your bed or your pillow to bring you back to the world of the conscious much like the Sonic Boom Alarm Clock does!
Continue reading »
Earlier this year Sony Ericsson released their new 'LiveView' device, although due to the lack of publicity you probably won't have noticed: a point not helped by the fact that it is incredibly hard to describe what it actually is, but seeing as we had one to review we thought we ought to find out.
What it physically is, is a 128 x 128 pixel OLED screen complete with two buttons and a four 'button' touchscreen, what it does is offer is limited control of your mobile phone via Bluetooth and what it aims to be is an extension of your phone that sits in a user friendly manner on your wrist like a hi-tech watch, or clipped onto some other part of apparel.
But the best description that I could come up with after a couple of weeks of using it is that is the physical incarnation of a simple android app; it allows you to utilise some of the basic functions of your phone from a small portable device (similar in size to the new iPod Nano) that sits on your wrist – the clip does allow you to put it elsewhere, but it is a lot more convenient to have it on your wrist like a watch.
Continue reading »
We ran a feature on the feasibility of solid state storage last month, and pretty much came to the conclusion that it was a good idea to boost the performance of your computer. Providing you had the money to throw at it.
Now, though, it's time to get down to it and give you some proper figures, not just opinions. So, the model I have is the Kingston SSDNow V+100, and according to the official Kingston website, it's great for corporate environments, though I can't see why, it seems to be coping quite well in my personal machine.
With a capacity of just 96GB, you would be forgiven for letting out a quick snort before returning to your own PC, which boasts terabytes of traditional hard disks. But I would advise against it. Read on, because where solid state drives really come into their own is with raw speed, and it's likely to make you think again before writing it off so quickly.
Continue reading »
The MacBook Air has for a while now been the lone competitor in the market for super light, super slim laptops. I mean, there are a sprinkling of others, such as the Dell Adamo or the painfully named, and even more excruciatingly priced, Sony VAIO VPCZ128GX, but for one reason or another, they just don't stack up.
This one, though, from Samsung could be a different story. To put it into context, the 9 Series laptop weighs in at 2.89 pounds, which is actually 0.01 pounds lighter than the MacBook Air. Of course, this could be down to a simple difference in the rounding of the two figures, but as it is, we can only assume it's lighter.
Continue reading »
When Windows Phone 7 was released I made a point of outlining my fury at the lack of SkyDrive integration. I mean, Microsoft so generously give you 25GB of free online storage with Windows Live, and then don't let you do much with it on the go. It's frustrating, but now they've gone at least some way to rectifying that, not with SkyDrive, but with Windows Home Server, the new version, 'Vail'.
Any users of Vail will soon be able to download a mobile app called 'My Server' which essentially lets you access the media on your home server on the go and stream it to your Windows Phone 7 handset.
Not only that, the app gives you a great example of how the metro UI should be done, and categorises your media into videos, music, pictures etc. so you can browse through your collection as you would locally through the music+video and picture hubs on the phone.
Microsoft demoed the app with a series of screenshots on the Windows Team blog, and if that's anything to go by, set up looks pretty simple and aesthetically, it's outstanding.
Continue reading »
How do you differentiate your product in a market so saturated with products from a plethora of companies? If you're Sony, you offer 3D on just about everything you produce including the latest Vaio notebook: the Sony Vaio F Series.
The Vaio F Series includes a 3D display – which can be toggled from 2D to 3D at the touch of a button – and 3D Blu-ray disc drive, so you can watch your latest 3D movies on the go.
Of course, the 3D display isn't the glasses free variety just yet, so you'll have to wear a pair of shutter glasses to view the 3D content just like you would with one of the new 3D BRAVIA TVs. If you own, or plan on owning, one of the new Sony Cybershot cameras then you can view your 3D still images on the screen as well; just put it in to 3D mode, slip on your glasses and you're good to go!
Continue reading »
If you absolutely despise 3D televisions, and don't want to spend the extra money on one when there are perfectly good 2D options in the market, then you may want to pay attention to Sony's new line up of 2D HDTVs. It appears that they haven't ditched the good ol' two dimension approach just yet, with four new models being offered to consumers in 2011. Care to take a closer look at them?
EX521 / EX421
Carrying on where the 3D BRAVIA models left off, the EX521 / 421 models will allow you to make Skype calls directly from your TV whilst you stare in to the LED display.
You'll also be able to appreciate a better image with the X-Reality chip built in to the set. Although it isn't as powerful as the X-Reality PRO chip found in the 3D models, it'll still have a tough go at giving you the best picture it can which is always appreciated, right?
Continue reading »
Sony are keeping us busy at CES this year aren't they? We've seen new Bloggie mobile cameras as well as new Cybershot models and now we're being treated to a whole new BRAVIA line up for 2011. Here's a closer look at Sony's 3D TV offerings for the year!
HX920
All of the new BRAVIA models have integrated Wi-Fi for internet services such as BBC iPlayer without the need for an additional set top box. The HX920 includes Intelligent Peak LED backlighting for a beautiful cinematic picture with deep blacks and boosted white levels, and it looks absolutely stunning.
It supports both 2D and 3D viewing, includes two pairs of 3D glasses for watching TV, and even has Skype built straight in so that you can video call from the TV with the bundled camera and microphone.
There's also been an improvement to the underlying technology of the BRAVIA line up with the introduction of X-Reality PRO image processing chips in the HX920. The chip helps to sharpen images and claims to be able to boost web video to near HD resolution. You'll also find Motionflow XR 800 present for smoother images; 800 frames per second will make a huge difference when watching sports broadcasts.
Continue reading »
Sony has continued to impress at this year's Consumer Electronics Show in Las Vegas. Yesterday we took a look at their 'Bloggie' mobile cameras, and today we're taking a look at the release of a new Cybershot line up.
Five of these models (the DSC-TX100V (pictured above), DSC-TX10, DSC-HX7V, DSC-WX10 and DSC-WX7) include 16.2 megapixel camera, and can take 3D still photos with one lens and imager. The DSC-TX100V model comes with a 3.5″ OLED display so you can view your images on a high resolution display on the go to see how your pictures turned out. This model also claims to be the world's first still compact digital camera to offer Full HD progressive video shooting.
Continue reading »
Microsoft and Intel are two of if not the biggest companies in the tech world, both of which have played large roles in bringing us to where we are today in the 21st century, but today's surprise announcement at CES (Consumer Electronics Show) could spell the beginning of the end of the dominance that these two companies have had over the market.
Described as "Unthinkable" by the former manager of Nokia this announcement made by the head of Microsoft Steve Ballmer stated that the next version of the company's Windows operating system (Windows 8 if you will) will run on chips made by the little known (at least in the world as a whole) company Arm.
Continue reading »
If you're the kind of person who doesn't want to spend half a day preparing the perfect shot, and you'd rather just get a camera out of your pocket and snap a picture in a second, then you may be interested in Sony's new Bloggie line-up, announced at CES earlier today.
All three models – the Bloggie, Bloggie Duo and Bloggie 3D – are capable of capturing 1080p high definition videos, as well as having a 5MP point and shoot camera mode.
Bloggie
The Bloggie, or MHS-FS1, is designed to be ultra-compact and lightweight so you can take it wherever you go without being weighed down all day. It comes with a large 2.7-inch wide LCD screen, and is available in both black and white.
All of the content that you capture will be stored on the 4GB of internal memory in the Bloggie, so you won't be running out of space too soon if you stick to still images. If you're recording a lot of 1080p however, you may want to be a little more cautious with storage.
Continue reading »
I'm a big fan of Boxee, and I use it on a daily basis with my HTPC connected to my TV. I'd love to cut down on the cords though, and if you're looking to do the same then Viewsonic's new TV with Boxee media center software built in may be just your cup of tea.
The TV is powered by Intel's CE4100 Atom processor – the same chip that drives the Boxee Box – and is completely integrated meaning that no external boxes of any sort are required.
Unfortunately, you won't be able to use Boxee with live television broadcasts, the two are being kept separate.
Continue reading »
Boxee and CBS have agreed on a deal that will allow Boxee users in the US to download full episode of CBS TV shows straight to their Boxee Box or other device.
The move signals what could be the beginning of more deals for users both in the USA and other countries as well, as more devices begin to appear using Boxee software. We told you of plans to for Boxee to bring us UK on-demand services such as TVCatchup.com last year, so hopefully such deals are still in the works for us Brits too!
Continue reading »
ASUS has just launched their new tablet line-up for 2011, which consists of numerous devices running on three different screen sizes and either Windows 7 or Android OS. Here's a closer look at two of the more mobile Android powered devices on show: the Eee Pad Slider and Eee Pad Memo.
Eee Pad Slider
The ASUS Eee Pad Slider gives you a 10.1-inch display with a 1280 x 800 resolution, and as the name suggests, the screen of the Slider will slide up, revealing a full QWERTY keyboard so that you can take notes and create documents without having to rely on the software keyboard built in to the operating system.
Continue reading »
The Eee Slate is the only device in ASUS' tablet line-up to come running Windows 7 in favour of Android 3.0, but boy is it worth a second look!
The Slate has a 12.1″ multitouch display with a 1280 x 800 resolution, and is powered by Intel's Core i5 CPU. There's no messing around with ARM chips inside this one, with Windows 7 running the show. The unit also comes with a stylus (or 'digital pen' as ASUS call it) for writing, high precision drawing or, you know, stabbing at that tiny little start orb in the corner of your screen…
Continue reading »
At first glance, you could be forgiven for thinking that the ASUS Eee Pad Transformer is your everyday netbook. It has a 1280 x 800 10.1-inch display with a capacitive touch screen, and can un-dock itself from the QWERTY keyboard base to transform (clever, eh?) in to a tablet device.
The docking station also acts as an additional power source when it's connected to the screen, with ASUS claiming that it allows for up to 16 hours of power. Real life figures will most likely be lower than that, but it's still a nice touch if you're in need of lots of power.
Continue reading »