Category listing for
Review
Unfortunately despite many attempts by manufacturers to popularise environmentally friendly phones previous attempts have generally fallen flat (such as the Sony Ericsson Aspen), probably due to the nature of these types of phones to compromise on the features that consumers actually want in favour of those that are better for the environment.
But the Sony Ericsson Elm is their new attempt at an eco-phone could well bridge the gap and bring environmentally friendly phones to the front of general popularity – but will any compromises made to the phone or an increased price be too much of a disadvantage for specifically designed environmentally friendly mobile phones to become the norm? Well we've had a look and as it turns out both the phone, and its credentials, are very impressive.
Continue reading »
Metroid Other M was developed by Team Ninja and Project M from Nintendo. The game was released on September 2nd in Europe. This game was Nintendo's attempt to create a far deeper, story driven experience for a gamer.
The game was first shown off in 2009 with emphasis on the fact that Team Ninja and Nintendo were working together on this project – shown by using a multiplication sign between the two company names in the trailer. The 2009 trailer showed off the types of fancy movements that Team Ninja is famous for and a battle scene where Samus is surrounded by a squad.
I personally wasn't happy about this as I always loved the Metroid games for their feeling of isolation and exploration. At the time I felt the game was nothing more than Ninja Gaiden game with a Samus character and I was convinced Nintendo had ruined one of their best franchises. Only after playing the game did I soon realise that this was still a Metroid game.
Continue reading »
The vast majority of phones now available on the market come with a touch screen, rather than a T9 keypad like phones have used for the past few decades. This helps add extra functionality, such as multi touch gestures in the operating system, but presents one big problem: you have to use your fingers.
I'm typing this article on the capacitive touch enabled Apple iPad, but I couldn't be doing that if I was wearing gloves, because the touch screen wouldn't respond to my touch. If you live in a cold country (hell, even England gets pretty cold in the winter for me), then this makes it awkward to use your touch screen phones, especially outside.
This is why the Pogo Sketch Stylus was invented… It looks like an ordinary pen, comes in a number of different colours, and has a special material at the end instead of a nib, which allows it to interact with capacitive touch screen displays.
Continue reading »
With the iPad's large 9.7″ screen, zippy 1Ghz A4 processor, and 256MB RAM, the door really is wide open for a lot of apps that simply wouldn't have worked very well on the iPhone and iPod Touch. For me, the Whiteboard HD iPad app is one of those applications that really benefit from the additional screen estate that Apple has offered developers.
What is Whiteboard HD? The clue is in the name. Imagine a whiteboard on the wall with all of your notes and doodles scribbled all over it, and then imagine the same whiteboard on your Apple iPad tablet, except this time you can change the background from plain, to lined, to a grid.
Now imagine that you have millions of possible colour combinations that would leave your house full to the brim of whiteboard markers, and put them in there too. This isn't even counting the various levels of thickness you can set for your marker either! This is just the surface of an application that completely changes the way you use a regular whiteboard, so lets get to the rest of it, shall we?
Continue reading »
The iPad App Store is already full of incredible applications – just check out our iPad app reviews for a few examples – and many of these applications include an abundance of game titles.
No, Human is one of the cheaper games on the store, priced at £1.19 for a universal iPad and iPhone application, but it is also one of the most interesting titles I've played in a long time.
Continue reading »
Carbonite, an online backup tool for both Windows and Mac OS X that has been around for a while now, in fact we reviewed Carbonite on Zath this time last year, however it's recently gotten a major version update to 4.0, with new features for you to sink your teeth in to!
So what's been added since the last time we saw Carbonite? There are three main features which have been added to version 4.0: the restore manager; a new custom setup option and a redesigned info centre too.
"Carbonite has always been about ease-of-use and our product team was charged with further-simplifying the restore process in Carbonite 4.0," said David Friend, founder and CEO of Carbonite. "
Continue reading »
When it comes to football there's no country like England, with our passionate fans, talent-filled leagues, and high attendances across the board. It's only fitting, therefore, that we have a great football league app too! Football League – Official Clubs' iPhone App is an app created for fans of teams in the Football league (Championship, League 1, League 2), so that they can keep track of all the news, keep an eye on live scores up and down the country, and share content of Facebook and Twitter.
How does it work in practice? The first time you open the Football League app up on your iPhone or iPod Touch, you can select your club from a long list of teams in the Football league. From then on, you will be taken to the "My Club" screen, where you can see a preview of the latest club news, previous results and next fixtures. On this page, there are also three sub-pages, which allow you to see the club overview, or take a closer look at the latest news and club player profiles.
Continue reading »
As always with a pair of headphones there are certain criteria that need stringently testing, so when presented with a pair of Philips & O'Neill 'The Stretch' Headphones, it would be an understatement to say I was intrigued by how fruitful such a combination could really be when designing and creating a pair of on-ear headphones.
These represent a joint venture between electronics manufacturer, Phllips, and popular sports and surf-wear designer, O'Neill, but anyway, with a careful and open-minded approach I unboxed the headphones and was initially pleasantly surprised, to say the least.
Aesthetic Appeal & Build Quality
You would imagine that the whole point of O'Neill being involved in the design of the headphones was to create a good looking product. You would be right. 'The Stretch' come in two colours, although the unit I tested is plastered with a great contrast of matte black and a deep red, which in my opinion can only lead to great things. The outside of the ear cups are painted a matte black with several faded stripes running diagonally parallel, which is a neat touch.
Continue reading »
I always find that there is often one or two apps that define a platform for a long time. Each time Apple releases an update to iOS, there will be one app which is thoroughly enjoyable to use and deservedly at the top of the App sales charts. For the iPad tablet device, this app is Osmos, and after using it for the past few weeks, I have no questions as to why it's done so well in the App Store.
If you've never heard of Osmos before, let me rewind a little and offer some background. Osmos is a game from a developer company called Hemisphere Games, and if focuses around you controlling a mote, with many of the levels on offer requiring you to become larger than the other motes around you.
Continue reading »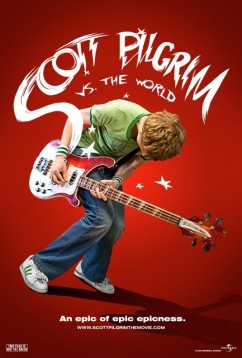 Scott Pilgrim Vs The World (12A)
Cast: Michael Cera, Mary Elizabeth Winstead, Kieran Culkin, Chris Evans, Brandon Routh, Anna Kendrick, Alison Pill, Jason Schwartzman
Director: Edgar Wright
Running Time: 112 mins
Before I start with the review of the film, I'd just like to say that I've never read any of the Scott Pilgrim comics as they never really interested me as I'm not a comic reader. But after watching the film, I think I may have to purchase the comics and give them a read. The film is quite simply, superb.
The film follows Scott Pilgrim who is the bassist in a band called 'Sex Bob-omb' and has just recently broke up with his girlfriend who crushed his heart. He starts dating a girl called Knives Chau on the rebound who becomes obsessed with Scott, only for Scott to then fall for new girl on the block Ramona Flowers, who is the girl of his dreams. But in order to be with her, Scott must first defeat 'Ramona's 7 evil ex's'. Cue one of the best films I've ever seen!
Continue reading »
Available on: XBLA (version tested), PSN and PC (Steam)
When I first read that Square Enix had bought Eidos and that they were doing something different with the new download-only Tomb Raider game, I started to cringe. Even when I'd seen a few screenshots and videos of the gameplay, I wasn't sold on the idea of the new changes to Lara Croft's Tomb Raider adventures.
First of all, they dropped "Tomb Raider" out of the title, secondly the camera angles were all different and not the 3rd person game we're all so used to, and this time she's got a companion to help her through her latest conundrum. So far, it wasn't looking good, but I thought I'd try the game anyway and it turns out, I was pleasantly surprised by just how wrong I was. This game is superb.
If you're worried that Tomb Raider games are going to be like this from not on, fear not. There is a Tomb Raider game on it's way and done in the old way. Lara Croft and the Guardian of Light was a new way of bringing the ever popular heroine to our consoles and long my then continue to produce games like this along side the main titles.
Continue reading »
Head down to your local electronics store and you will no doubt find the shelves of budget headphones are more densely populated than an ant-hill, so it really does take a special pair to stand out from the crowd. It is an industry in which it is difficult to innovate products, and perhaps even more challenging to change the customer's perception of a good product, but when we first heard about these Urbanears Medis earphones being released, we were looking forward to testing them out.
At the end of the day, when you are buying in-ear headphones, you are usually looking for one of two things: either a great sounding premium pair, or a cheap and cheerful pair to get you by. So, it was interesting, if indeed taxing, to review the new UrbanEars Medis Earphones and find that little bit of individuality to set it apart.
Continue reading »
If there is one part of the software development industry that never fails to frustrate me with its lack of innovation, it is speech recognition and sufficient artificial intelligence to truly understand what I'm saying. I remember being really excited at the speech recognition system in Windows Vista, only to be disappointed by a lack of true functionality. My attention, therefore, naturally turns to third parties.
One application that promises to bring speech recognition to your computer is Dragon NaturallySpeaking 11, which promises to "turn your voice into text three times faster than typing with up to 99% accuracy". Considering how dubious I often find myself at these applications, I was surprised to be somewhat excited when this particular box arrived at my door. Can it truly be good on its promise though? Let's find out!
In The Box
I was sent a box containing Dragon NaturallySpeaking 11 Premium, which includes a free microphone and headset in the box. If you don't want to use the bundled microphone, you don't have to, as the software works with any microphone, although if you want a good level of accuracy, I recommend you use a decent computer headset. Also included is the software and a quick reference card.
Continue reading »
To say that the third party application market for Twitter is huge would be a gross understatement. Every credible platform in the world has numerous Twitter applications, and with iOS having a catalogue of applications larger than anyone else, it isn't any different.
Despite the absolute plethora of apps for Twitter on the iPhone, there isn't as much support for the iPad tablet device as of yet, but we do now have Twitter for iPad, the official application from Twitter. How does it stack up? We'll soon find out!
At first glance, the user interface of Twitter's iPad application looks deceivingly simple and easy to find your way around. On the far left hand side of the screen, you'll see all of your user options. From here, you can view your Timeline, Mentions, Twitter Lists, Messages, Profile, and even perform a search, just like you can on the Twitter website.
Continue reading »
iTunes has always been one of Apple's more quirky applications, seemingly following its own user interface guidelines as opposed to the guidelines that Apple suggest for every other application, and becoming more bloated full of features since its original release before the first iPod.
Ahead of last week's Apple Keynote, I was quite excited to see iTunes 10 receive a major overhaul, but unfortunately in the end it just ended up gaining a tad more bloat in the form of a brand new social network that, surprise surprise, centres around iTunes. It does have a few nice tweaks though, which help make up for the lack of a diet, so let's take a look.
Continue reading »
There was a lot of chatter when Dell released the Streak, their new Android device a few months back. Now, some of that chatter is starting up again, no doubt because the device has just been released over in the States (isn't it lovely when us Brits get a product first?).
You may have noticed that so far, I've called it a 'device', rather than a 'phone' or a 'tablet', because essentially, it isn't either. Not from my point of view anyway. Is this a good thing, or a bad thing? Let's find out in this Dell Streak review shall we?
Continue reading »
With all areas of the tech world there is a tendency to focus quite a lot on what is going on at the top of the market and ignore some of the innovations and new products that are appearing elsewhere, and whilst that may be valid a lot of the time with this particular product that is very unfair as the Radiopaq Dots have a lot to talk about.
Made by a relatively unheard of UK company, the Radiopaq Dots Earphones aim to fill the criteria of being small, fun, good quality, cheap and sturdy, five things that actually very rarely go together and which we will look at one at a time to see how well they fare.
Continue reading »
As soon as I got my Apple iPad from PC World on release day, I knew much like any new shiny, beautifully designed portable product from Steve Jobs' company, I was going to need a case to prevent scratches and general wear and tear that occur even if you're the most careful of people – I've owned a shiny backed iPod Classic!
This particular iPad leather flip case doesn't weigh much so it doesn't make the overall weight of the iPad really noticeably heavier when you're using it, equally the case is quite compact in terms of thickness of the leather-style exterior, therefore the overall bulk of carrying/using your iPad isn't increased, while offering a fairly secure form of protection from bumps and scratches.
Continue reading »
Sky+ users in the UK (and there are a lot of Sky+ users in the UK) with an iPhone (or iPod Touch, or iPad) will no doubt be accustomed to the Sky+ application for iOS, which allows users to record shows on their Sky+ box at home from their mobile phones and view the TV schedule for the next 7 days.
Although it was a long time coming, we now finally have the same option on Android mobile phones such as the HTC Desire too, with the launch of the Sky+ application for Android.
Continue reading »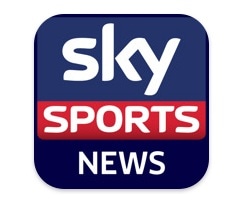 With the new football season now well and truly under way, fans all over the country are keeping a keen eye on transfer stories before the window closes at the end of the month. What better place to do so than Sky Sports News? Especially now that the channel is now available in high definition through your Sky HD box.
However, it is now more accessible than ever with its appearance on the App Store for both the Apple iPad and iPhone. Care to take a look? Keep reading to check out our review of Sky Sports News iPad app!
When I saw the Sky Sports News app on the iPad for the first time, I was blown away by the design. The layout of the application makes checking the headlines really easy. Although I will be using the application predominantly for the football news and live football scores, there is a whole host of other options available that you can access from the tabs at the top of the app. These options include all of the sports generally covered by Sky, including Cricket, Rugby, Golf and F1.
Continue reading »