Category listing for
Review
Trend Micro SafeSync is a backup service which allows you to make backups of your home computer online, and keep everything synchronised so that you know where you're at with your files. We've taken a look at a few online backup and sync services in the past, such as EASEUS, Cloudberry and Carbonite, so I was interested to see how SafeSync would stack up against the competition.
Before you can download SafeSync, you will have to register for an account. At this stage, you can download the trial version free of charge so there isn't a need to enter any payment details, just your email address and a few details. By default, you will be sent SafeSync related emails to your registered address, so it may be a good idea to uncheck this option if you don't want any commercial e-mail filling up your inbox.
Continue reading »
Facebook already has a great deal of integration into several aspects of the Windows Phone 7 platform, but where there is an internet connection and a compatible app, there is a Facebook app. The icon is a pretty generic Facebook logo so nothing nasty there and it slots right in to the start screen.
Upon loading the application you're immediately faced with a new menu listing links to your news feed, photos, inbox, events, friends, profile, requests, notes or a logout button.
The first criticism I would have of this, is it would be nice for some sort of notifications for each section so you know where attention is needed. However, that is lacking so you have to navigate through the app to find out whats going on. A simple swipe to the left will take you to your notifications menu, though, so you can keep up with statuses or likes etc. as you would on the normal site.
Continue reading »
One of the key aspects to any modern smartphone OS is how it handles social networking and considering Twitter integration in the Windows Phone 7 OS is simply non-existant as yet, it could be considered vital to the initial success of the platform that the Twitter application is up to scratch. So, I set about downloading and installing the free official app which took no more than a few seconds and I was itching to check it out.
If you are someone who bases opinions a lot on first impressions, then you may not have even made it into the main part of the app. I had a few gripes from the very beginning with this app and firstly, and perhaps you might consider it trivial, but the start screen icon is coloured with the same shade of blue used for the default blue theme for the OS.
Continue reading »
Bluetooth speakers, indeed all wireless speakers, will inevitably command a higher price tag than their wired equivalents, so being priced at roughly £50 on various sites around the web, but listing a recommended retail price of nearer to £80, is not too unreasonable. For that price you would by no means expect performance to be outstanding, but equally you would expect a decent experience. So, how do the Creative Labs Inspire T12 Bluetooth Wireless Speakers stack up?
Hardware & Aesthetics
So what do you get with the Inspire T12′s? Well, as expected you get the pair of stereo speakers with bluetooth connectivity and there are no surprised in terms of how to set them up. It's a simple plug in at power source and the pair of speakers are connected by a single wire of enough length so that you can have them at any reasonable distance. That's about it as far as setup is concerned with the hardware, the rest is done via the bluetooth device you wish to output audio from, no drivers necessary for OS X or Windows in my experience and it is equally simple to get your mobile phone, iPod, iPad etc. to get connected.
Continue reading »
Every year, there is always a phone that hits the market and wows consumers across the country. A phone that makes consumers ignore the fact that they're spending £500 on a phone and just throw a credit card at the nearest sales person they can find.
In 2007, that phone was the iPhone (although to be honest, the iPhone has people spending money with each refresh and in ever greater numbers, but that's a discussion for another post). Then came some other big names, such as the recently released EVO 4G, and Motorola Droid in the States.
For me, the HTC Desire HD could have very possibly been that phone. At first glance, I thought "EVO 4G without the 4G, that could work I guess". In theory, it has a slew of eye catching specs, a solid build and Android 2.2. In real use? Well, there are issues, but how detrimental are they considering the wider picture? Actually, more detrimental than you may originally think…
Continue reading »
I've always hated clutter, but always loved technology, and the media that comes along with it. Quite often these ideals can be somewhat conflicting; after all, we all have nightmares about the spaghetti junctions in and around our desks, and that's before we even get to the rest of our media. CDs, DVDs, Blu-Rays. They all take up space. You have to question why we still have them around though, with terabytes and terabytes of available hard drive storage the necessity for these kinds of media is dwindling.
The one reason that I've kept the CDs and movies that I own is because when I watch a film, I like it to be in the best quality that it possibly can be. If you transfer a DVD or Blu-Ray disc to your hard drive, you're often going to have to re-encode it, compress it, put it in a container such as .AVI or .MP4, and this all loses quality.
MakeMKV promises to change this, because it will allow you to take the content off a DVD or Blu-Ray disc, and put it on your hard drive with no major compression or re-encoding, meaning that you keep the vast majority of quality from the source. If you aren't short on storage (and trust me, you won't want to be short on storage), then this could be a viable way to finally get all that content on your hard drive and take it off your shelves.
Continue reading »
Despite being able to use a screen saver as a wallpaper relatively easily if you're using Windows, things aren't quite as simple for users of Mac OS X. My Living Desktop aims not only to make this process simpler, but also give you an array of stunning videos to use as your background on the Mac. From development company Amuse inc, it costs just shy of $35 USD for a license, but is it worth it, or is it overrated compared to other applications?
Once you've downloaded My Living Desktop, you'll have to go through an installation process as unfortunately it isn't as simple as drag and drop for installation. Despite this, installation shouldn't take too long to complete, and you'll be up and running in under a minute.
Continue reading »
There are more custom skins out in the wild for Android than I care to count. From HTC's Sense to Samsung's TouchWiz, consumers have an absolutely massive amount of choice. The only problem? All of these custom interfaces are only available with certain phones. If you're running stock TouchWiz, you can't simply switch to HTC Sense, as this is only available on HTC devices such as the HTC Desire. What do you do, therefore, when you want a change of scenery?
*Spark for Android will run on most Android devices, and offers a completely different home screen option for users who want a change. It's free to download from the market, and has certainly tempted me, so let's take a look at it and see if it offers a better experience, or whether the grass is simply greener when something brand new is introduced.
Continue reading »
This time of year always throws up a wealth of new gadgets for us to drool over in the months prior to the Christmas season, and with nearly every manufacturer placing a lot of emphasis on mobile devices this year, it was hardly surprising there would be a lot of new smart phones. With the iPhone 4 and the new iOS 4 update being launched over the course of the summer and a new version of Android on the way before year's end, there sure is a lot to be excited about, but for me nothing has made the past few months more exciting than the introduction of Windows Phone 7.
Around this time of year it is always natural to want a new gadget or two as manufacturers launch their devices ahead of the busiest shopping season of the year, so it wasn't surprising that I was after a new phone. After a freak trampolining accident towards the back end of the summer, though, it became all the more necessary to take the plunge and fork out for a new handset. But what do I do? Go with what was at the time the best Android handset around, the HTC Desire, or perhaps the annoyingly familiar iPhone, perhaps I should wait for the HTC Desire HD or stick with a Samsung Galaxy S, the choice is almost impossible. In the end though, it seemed it would come down to iOS vs Android, and I was sorely tempted to go with the latter.
Continue reading »
Over the past few years, we've all become accustomed to using wireless technology wherever we can. Plugging an Ethernet cable into a laptop may even seem completely alien to some people who are less 'techy' than most. However, as good as wireless technology is though, it has its weaknesses. If I'm sat in a certain room in my house, I simply don't get wireless signal, and have to keep the door open for reliable reception, which isn't exactly convenient.
For people having wireless problems, there's the choice of using a new networking product called the D-Link DHP-307AV/B 200Mbps Powerline Homeplug Network Starter Kit. This will allow you to access the internet anywhere in your house that you have power in, so you don't have to rely on one wireless router to get the job done for you. The clever part about this? It uses the cables already in your walls, you know, the ones that deliver power to the place!
Continue reading »
Geeky musicians all over the world have been waiting for this one. GarageBand '11 was the third app announced at the recent 'Back to the Mac' event to have received the star treatment in the upgrade from iLife '09 to iLife '11, and it comes with some features that people probably won't want to do without after using.
Of course GarageBand has always been insanely popular with musicians who use Mac OS X, as it makes it so simple to do things that would normally require a room full of equipment and very expensive software. Does the new version improve upon this, or pack too many features at the cost of usability? Let's check it out and see for ourselves!
Continue reading »
iMovie '11 was one of the three applications that got a major update with the new iLife '11 suite that was released at Apple's Back to the Mac event last month, and the new version comes with some interesting new features for users to sink their teeth in to. There's quite a few things to cover, so lets dispense with the introduction and get straight to it!
Movie Trailers
Apple showed off their new movie trailers in iMovie '11 for what seemed like forever at the Back to the Mac event. It's clear what audience they're pitching to with this feature, although I personally don't quite get the idea. A lot of their examples include people's holiday clips being compiled with movie style introductions and credits, but I just don't see a lot of people showing off their holiday trailer to friends and family. What's wrong with still images and the odd video clip thrown in without any of the trailer business?
Continue reading »
With another year comes another version of iLife (or something like that), and this year we've been treated to iLife '11, which consists of major updates to iPhoto, iMovie, and GarageBand.
iPhoto '11 was announced at the recent 'Back to the Mac' event and has a number of intriguing new features that make it a pretty big update when compared to iPhoto '09, so let's take a look at what Apple has to offer.
Continue reading »
With more and more websites demanding our attention everyday, it's getting harder and harder to keep track of all our passwords, never mind our logins for each site! Luckily, there happens to be a little tool to help keep track of not only website passwords, but also software licenses and email information, called 1Password.
Originally, 1Password was only available for Mac OS X, but the developers have since released version of the popular application for Windows and the iPhone too.
Continue reading »
There are few graphic designers, photographers, and illustrators around who haven't used a Wacom graphics tablet at one point or another in their careers. Wacom are certainly at the forefront of the market for graphic design and illustration with their tablets, and we've been given both the Wacom Bamboo, and Intuos4 wireless to take a look at – both of which are definitely a step up from the current iPad tablet and stylus combination!
Today, we're reviewing the Wacom Intuos4 wireless model, the more expensive of the two models that we have, and the larger of the two also. It retails for around £300 in the UK, and promises 2,048 levels of pressure sensitivity, customisable ExpressKeys with OLED displays and new radial menus that enable fast access to shortcuts. Does it come up good on its promise, or are you better sticking with the ol' keyboard and mouse? Let's find out.
Continue reading »
If you've ever had to manage lots of tasks at once, or do any team management, you'll be able to appreciate how difficult it is to stay organised with so many things happening at the same time.
In the past, I've tried out project management tools such as Basecamp, but I never fully appreciated the features it had on offer, and found the interface frustrating at the best of times.
Given the chance to look at a brand new project management system on offer, called Apollo HQ, I jumped at the chance, and hoped that my problems were finally solved. After a quick look at some of the features and the interface, I had high expectations. Did it disappoint, or live up to everything it promised? Let's take a look!
Continue reading »
Yet another Final Fantasy makes its way onto Nintendo's handheld. The last one I played was Final Fantasy III which was a couple of years ago now and I really enjoyed it. It only took a few years to finally get released in Europe, but it was worth the wait. So with Final Fantasy: The 4 Heroes of Light, I was expecting more or less the same kind of game with a few minor changes, and I was right.
The story sees the young hero Brandt who has just turned 14 and has to go and see the King before he is seen as an adult. When he arrives, the princess is missing and the King asks Brandt to save her from the Witch of the North. Of course saving the princess is just the start of Brandt's journey, and he is joined by three other heroes who must find a way to get along and save the world.
Continue reading »
It was only June when I took a look at Norton's 360 security suite for Windows, and I was amazed at how much things had changed since I'd last used a Norton product. I commented on how I "found it to be efficient, offer an abundance of great features and manage resources very well too", especially when compared to my past experiences with Norton products.
Fast forward a few months, and here we are with Norton AntiVirus 2011! The latest version of Norton's security suite has a few neat surprises up its sleeve, while making sure that the core functionality that I enjoyed in Norton 360 is still very much functional.
Continue reading »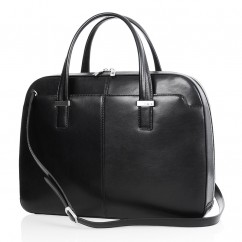 Ladies, have you been looking for a stylish bag that looks good AND keeps your laptop safe? I discovered Knomo recently, a London-based copany that creates beautiful high-quality handbag and shoulder bags specially designed for gadgets. I bought myself a classic leather Vichy laptop bag and it's every bit as fabulous as I'd hoped.
The Vichy is a lovely leather brief bag with no less than thirteen(!) separate pockets to organise your things. It fits a 13-inch laptop, such as a MacBook Pro with charger cable and loads of room to spare for your personal organiser, pen, phone, lipstick, eyeliner, spare tights and all those other essentials for the savvy businesswoman on the move.
Continue reading »
BitDefender has recently launched their Total Security 2011 suite for Windows, which offers protection against not only the latest viruses, but also spyware, phishing and identity theft attacks too.
With a competitive security market full of really great security solutions, though, can BitDefender's offering stand out above the rest? Let's take a look!
Installation and Setup
The installation of BitDefender Total Security 2011 is simple, and shouldn't take too long on most machines. You'll need to input an email address during installation though, which is a slight annoyance (yes, I'm one of those lazy users who just wants to click 'Next' a few times and have everything ready and waiting for me at the other side).
I noticed that a reboot wasn't necessary after installation either, which is always nice. Once installation has been completed, you will notice that anti-phishing toolbars are included for your browser as well.
Continue reading »