Category listing for
Games
We recently featured a Wii Fit with Wii Balance Board review here on the site, which basically concluded that Nintendo have come up with yet another novel and fun device, which also has some usefulness incorporated into it that could help to improve your general fitness – which is always a good thing obviously.
Continue reading »
I'm writing this about Mirror's Edge on the day which we've seen the release of Call of Duty: World of War, the 5th game in the amazingly popular game franchise and I just can't wait to get my hands on a copy and wear out the disc.
But….this game, Mirror's Edge is released today that I feel deserves a special mention as it hasn't been widely advertised as much as COD 5 and it could turn out to be the best game of the year.
I'd seen the title around here and there, but never paid much attention to it as I'd not seen anything about it. Then the demo became available on the Playstation Network. So I decided to delve into this game and see what it actually was.
It blew me away!
Continue reading »
Blizzard have now introduced the option of creating your very own World of Warcraft Custom Guild T-shirt that takes the hassle out of being limited to specific designs or having to get your own WoW T-shirt designed elsewhere.
If I'm honest, I'd have say that I'm not sure if it's something that I would personally want to buy – for my tastes, there's a little too much WoW information on there. I prefer T-shirts that are a little more subtle, perhaps just having my guild tabard and horde/alliance symbols on it without the rest of the design.
Continue reading »
The Football Manager 2009 demo has now been released!
Therefore those of you who have been eager to see the changes and improvements (some of which are quite significant) from last year's Football Manager 2008 are able to do so by downloading one of the two versions from the following links:
Continue reading »
The Football Manager Live launch dates have been put back a little from the original projected dates at the end of October!
This is because of issues that have been found during the latest round of beta testing, specifically the recent Stress Test – Sports Interactive invited a bunch of players to test out the game on one gameworld a few weeks back to simulate what a live gameworld (server) would be like put under heavy (more than expected) load of players in the game.
After missing out on the beta during the last year or so, I was very pleased to be invited to have a chance at participating in this Football Manager Live stress test. It basically involved starting out as a new manager and playing the game as you would normally, I somehow stumbled around the game and found my way around and liked what I found so far in this Football Manager Live preview of things to come.
Continue reading »
Lucasarts have announced that they are developing a new massively multiplayer online (MMO) game based on the 'Old Republic' called "Star Wars: The Old Republic".
The Old Republic was referred a few times during the movies, so most general viewers probably have no idea what this will involve, however if you've played either of the two "Knights of the Old Republic" (KOTOR) games then you'll probably know the kind of society, environment, types of characters to expect in this period of the Star Wars history which is set thousands of years before Obi Wan and the Skywalkers.
Continue reading »
PS3 hard disk upgrades are easy to do, at least that was what was mentioned in the comments of our recent 'new PS3 160GB' post – with that in mind I thought I would go out and do a little research on this subject to see just what is involved.
I was pleasantly surprised to see just how simple Sony have made the process of replacing a corrupted hard disk and also that of upgrading your PS3 hard disk to a larger capacity – which in turn means you don't have to go out and buy a new PS3 to replace your smaller hard disk model.
Continue reading »
I read a review for Overlord: Raising Hell (PS3) a few weeks ago because it was just there to read. But after reading what the game was about and what you could do, I really wanted to play it and so glad that I have.
Imagine a mix between Pikmin, The Lord of the Rings and Fable and you have Overlord!
The point of the game is to use your 'minions' to accomplish certain tasks such as opening gates, collecting treasure or killing great big fat Halflings. If you want to kill some innocent villagers and become an evil overlord, then so be it.
Continue reading »
The live action Resident Evil films started off quite well and I thought that they could only get better. But in my opinion they just got worse. They' re good as action films, but as a fan of the Resident Evil games it left me a bit brain-dead.
I think the studios have picked up on this (from the general consensus, not just me) and decided to make a film based on the game that feels like its connected to the games.
Continue reading »
Yes you read it correctly, there's now a World of Warcraft mouse which has been specifically made by SteelSeries to make the millions of World of Warcraft players' gaming lives better!
Custom accessories for playing World of Warcraft is nothing new, there's been WoW specific keyboard sets for the Z-Board gaming keyboard (also made by SteelSeries) for several years now, but this is the first custom-made mouse I've seen for this immensely successful game.
The mouse itself has a definite "WoW" look to it – in both senses of the word! – I think it looks like a piece of glowing armour!
Continue reading »
I'm a big fan of the Bourne films and definitely think they're one of the reasons why the new Bond films are that good. The intensity of the fights and how Bourne just acts on pure instinct to get out of tight spots, blending in to stay hidden and not to draw attention to himself.
In fact I just like to whole espionage scene, sneaking behind your enemy to take him down, shooting people from a distance as not to be noticed. It's great to see that The Bourne Conspiracy fits right into this category and it's like playing through a prequel of some sorts to the brilliant Bourne trilogy.
I did play the demo a while back which I thought was quite good, but wasn't rushing out to buy the full game. But from playing the full game version, I'm so glad I've got it otherwise I'd have missed out big time. When the game first starts, it has to install a lot of information to the hard drive and I'm assuming this has something to do with the fact that the game uses the 'Unreal' engine, one of the best gaming engines to be used at the moment.
Continue reading »
Lego Star Wars combines two things which I always liked as a kid (and still do today to be honest), so being able to have a combination of the two things is great!
We've recently had the Lego Star Wars video games and the latest Lego Star Wars toys such as a Lego Millennium Falcon – I wish I had that kind of stuff as a kid!
Continue reading »
Nintendo just can't stop can they!! A new DS is about to be released, known as the 'Nintendo DSi'.
There are a few new features added to the DSi which include bigger screens (17% bigger to be precise), top and bottom. The ability to play back music with improve audio capabilities, and save data onto an SD card, and you can also take photos with the built in 3 megapixel camera.
The camera has a maximum resolution of 640 x 480, which is a decent size for such a small console. Gamers will also be able to download games which will be known as DSiWare and can be stored on an SD card. The Opera browser which is used on the Wii, will be built into the DSi as standard. Some of the DSi ware will be free, but others you will have to buy using, you guessed it, Wii Points. The points values will be set 200, 500 or 800 depending on what it is that you want to buy.
Continue reading »
Manhunt 2, the sequel to one of the most gruesome games ever made is set to FINALLY hit the UK shores this Halloween!
Manhunt has come under huge pressure because of the graphical content of the game, with people asking questions about whether or not a game with this magnitude of violence is appropriate.
Manhunt is made by Rockstar games, and if you don't know who they are, what rock have you been hiding under?! Rockstar are the company behind Grand Theft Auto 4, just in case you didn't know.
Continue reading »
The word is out that Nintendo could be releasing a new version of the Wii in 2011. This version would enable people to play true high definition (HD) games on the Wii, will have an increased hard drive and will still carry the name Wii.
It's not that long ago that I covered the talk of there being a Wii 2 on its way and now some more speculation has come to light.
Continue reading »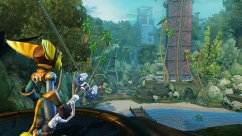 I remember saying in my review of Ratchet and Clank: Tools of Destruction that I thought it was the best looking game on the PS3 so far. But Quest For Booty seems to be more polished and looks better if that's possible!
The game follows straight on from where we left our hero, with Clank taken by the Zoni. To where, nobody knows. But in Quest For Booty, Ratchet is trying everything he can to find his faithful friend and sidekick.
This is more of a platform game but still keeps the essence of the previous game. When I reached the island there were certain parts of it that reminded me of the first Jak and Daxter, which was cool. On the island, you have to get the power flowing back to the village so that you can access other areas. Then it's on to other little things to find clues as to Clanks whereabouts and search for the Fulcrum Star so that you can look through the Obsidian Eye to ultimately find Clank.
Continue reading »
As you may have already read in my "Pure (PS3) Demo" review, the game is a racing game on ATV bikes and has a feel of Motorstorm and SSX. The craziness of Motorstorm with 16 riders on the track at one time which can be fun, and the tricks you can pull off on the jumps is reminiscent of SSX.
You might notice a difference to this review and this is because I'm going to be doing game reviews from the tech side a bit more to give a deeper account of the game being reviewed.
And what a game to start with!
The opening of Pure has you completing a training session the same as in the demo, and then you have to build your own ATV which is really cool! Then it's into the game! When you've completed a few races and gained some points you unlock extra parts for your bike which helps to improve your ATV.
Continue reading »
Oh yes there is a Viking Quest Game which has recently been released! Your chance to be "an ice age badass" if ever there was one!
I'm a big fan of the brilliant Entourage TV show, if you are too then you'll no doubt need no introduction to the little-known that got cancelled called Viking Quest which starred Johnny 'Drama' Chase himself – however, if you don't know Entourage, then I doubt you'll have heard of Viking Quest – lets just say that it didn't do that well when it was first made (up).
Continue reading »
That's right, Zath is holding a Pure competition! Last week Ender wrote about what he thought to the Pure PS3 demo of the upcoming extreme racing game that Disney Interactive Studio are releasing on the 25th September 2008 for the PS3, Xbox 360 and PC.
Pure is an intense extreme sports, off-road quad bike racing game that involves lots of jumps and tricks. It has been developed by Black Rock Studio in collaboration with the esteemed quad racer and film director Wes Miller.
Continue reading »
Wario Land: Shake Dimension for the Nintendo Wii is the latest game in which you get to play as Mario's arch-nemesis; Wario (bad Mario?) – he started out as a villain in 'Super Mario Land 2: 6 Golden Coins' and has now featured in several games as the central character as well as some with Mario, such as Mario and Sonic at the Olympic Games.
In the latest game, you once more take on the challenge of gathering gold and treasure along the way, this time round the game is based on the Nintendo Wii and as such you can be sure it will involve a bit more physical movement on your part.
Continue reading »