Category listing for
Gadgets
Is there really a need to tag a child with a GPS watch? Well it seems that every day in the press there's more news about murderers, rapists and generally bad people and although you'd have a case in saying that a lot of this is just scaremongering, the fact that the streets are more dangerous than they 'used to be' is one that you'd struggle to deny.
So parents today are faced with the dilemma of either letting their children out to the mercy of the outside world, or restrict their freedom and keep them under tabs neither of which are in any way beneficial to the children in question… and that's where the lok8u num8 Kids GPS Watch comes in.
Continue reading »
Here's the latest in hi-tech gadgets and general technology that sparked our interest here at Zath, but we didn't get chance to cover ourselves – thankfully these sites did do and you should definitely check them out as we liked reading these articles!
Night Vision Goggles – Who hasn't played a stealth computer game or watched them used on TV and movies and not wanted to have some yourself to scout out your surroundings in the dark?
Laser Airzooka – When the Airzooka was first released, it allowed you to shoot people with air! Now you can improve your accuracy given the nearly added laser sight!
Continue reading »
Here at Zath we like all things hi-tech, gadget and gaming-related, however unfortunately we can't feature everything we like, thankfully there are other technology, gadget and gaming websites out there to keep up to date with the other important developments that are going on.
That being the case I thought it might be useful and interesting to everyone to highlight some of our favourite articles that might be useful and interesting to our Zath readers, but first let's start with highlighting a few of our favourites on Zath in the past week in case you missed them!
Continue reading »
Are you someone who uses lots of hi-tech gadgets such as an iPod, iPhone, PSP or Sat Nav? Well the Freeloader Solar Charger maybe the perfect gadget for you. With the Freeloader Solar Charger you have immediate access to energy to charge your gadgets.
So how does this work you ask? Well all you need to do is let the Freeloader Solar Charger panels charge up from solar energy of the sun. Once you have full charge in the Freeloader Solar Charger then you can carry this with you to business meetings, while travelling or wherever you wish to go.
Continue reading »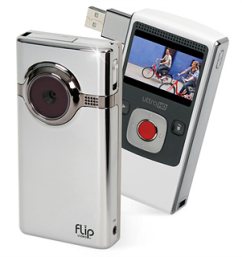 Pocket-sized video recorders are becoming increasingly popular, most of the time it means taking short and very basic clips using your mobile phone, but surely there must be a better solution, a pocket-sized high definition solution? Well there are a few options out there, but one of the best is the Flip Ultra HD!
The Flip Ultra HD is a pocket-sized video camera that shoots high definition (720p) videos at the touch of a button – quite literally! Want to capture a moment as it's happening? Just whip it out of your pocket and press the big red button to start recording and point at the action!
Continue reading »
It was only the other day we were talking about 'I Want One of Those' giving us a great deal where you can use a 5% off voucher at IWOOT (with an added custom Zath code which is valid until mid-2010) to save money on your hi-tech gadget purchases, they now have another good offer for you!
Continue reading »
One of the great British summer traditions is getting the family together, squeezing as much stuff as humanly possible in a car and go camping – something that always ends up in bad weather, poor hygiene and a good time had by all. But to be honest it hasn't really been brought into the electronic age and that is what Orange have been putting their mind to.
This concept all-singing-all-dancing solar tent has been unveiled in conjunction with the opening of Glastonbury (as Orange are one of the many sponsors) and although some of the details may be more from the realms of the ideal than that of reality it could well be the direction in which camping is going.
Continue reading »
It was only yesterday that we were looking at Firebox's new website design and now they're giving us a special short-term Firebox voucher code that will give you 20% off your order, so long as you place your order by the end of today, 24th June 2009.
Continue reading »
One of our favourite online gadget retailers, Firebox.com has given its website a face-lift!
No doubt, you'll have heard about Firebox before, especially if you're in the UK, either here on Zath or through other means – Firebox are one of our favourite purveyors of hi-tech gadgets, some lower-tech gadgets and even some things which you'd have a hard time of classing as a gadget at all, but none-the-less there's lots of great fun products and cool stuff for you to purchase either for yourself or as a present for someone else!
So what's been changed to make using their website and shopping with "the Firebox" better?
Continue reading »
'I Want One of Those' is one of our favourite places to get our latest gadgets from, they are constantly adding to the range of gadgets that they stock and also offer an IWOOT voucher code that you can use all the way to the end of June 2010 to save 5% off your order.
Continue reading »
I've never had to worry too much about my father having a sense of humour or about offending him with presents, as he's really just a big hippy at heart. So if you, like me, have a fun and easy-going papa with which to share the day then take a look at some of the stuff I've trawled the internet for, to make this Father's Day a treat. If, however, you're forever living in fear of offending or being secretly murdered in your sleep because you bought your dad a blow up doll with a conveniently located hole in the nether region one year, then it would probably be best for you to take a look at our other list of gadgets for Father's Day 2009.
Continue reading »
What do most fathers have in common? Well apart from having children! Yes most of them love their gadgets, tech and any other toys that they can get their hands on!
With that in mind and also as a means of trying to figure out exactly what gift idea I should buy for my own father this Father's Day, here's a bunch of gadget-based suggestions for all of us to consider.
Continue reading »
Yes, you read the title right! Coolest Gadgets (UK) are running a competition and boy do they know how to run a competition! They're only giving away an LG LF7700 42" LCD TV worth around £850.
If that wasn't enough information to spark your interest, then you should definitely head on over to their LG LF7700 review and see for yourself just why it's worthy of a spot in your living room!
Continue reading »
Let's discuss all the good stuff about the Dell Inspiron Mini 9 netbook (and I do mean ALL the good stuff). It has a phenomenal battery life. "Hours and hours" is the best way to describe it. It is totally silent, because it has no moving parts. It has 3G built-in (which actually works) and is about as small as a PC gets. Now that's out of the way, let's start the review shall we?
The Dell Inspiron Mini 9 netbook is quite simply the worst PC I have ever seen or used. There are so many fundamental and important flaws with this machine; I honestly don't know where to start. I suppose the physical layout and build quality would be a good jumping off point, so we'll start there, then work our way through everything. Pull up a chair my friend, because we'll be here a while…
Continue reading »
We recently featured an InvisibleShield review here on Zath and basically outlined that it's a scratch protection system for all your favourite gadgets (not just for us iPhone owners) – to help make sure that they stay shiny and looking new for a long time to come! We even featured an InvisibleShield voucher / coupon code for you to get 50% off you purchase!
But in case you don't already know, what is InvisibleShield? It originated in the military where it was used to coat and protect helicopter rotor blades to prevent them taking small damage that could ultimately weaken them!
Continue reading »
With regards to the Zune, Microsoft is generally seen as being a one trick pony – it can play music and videos, and that's it, not that impressive from one of the world's biggest companies. Not only that, but it has a very limited (if loyal) fan base as it doesn't really stand up to the competition of Apple's offerings in style, ergonomics or general brand appeal.
But Microsoft aim to change all of this with the release of the much rumoured Zune HD which should not only thrust itself into the top of the market, but also evolve Zune into more of a brand, something that hints of more diverse things to come.
Continue reading »
Ever since I first saw a video of how effective Zagg's InvisibleShield was demonstrated to some delegates at CES where it looked as though it was unscratchable and unbreakable, I've wondered just how good it would hold up in actual use on your favourite hi-tech gadget in making it scratch-proof, well now I've had a chance to find out!
InvisibleShield is a urethane plastic coating which once applied to your hi-tech gadgets will make them essentially unscratchable – obviously that's quite a claim, but given that this product was originally used by the military to protect helicopter rotor blades from being damaged, I thought that it was probably going to be good enough for my humble iPod 80GB, HTC Tytn II and PAYG iPhone.
Continue reading »
I have the pleasure in announcing that the Amazon Kindle DX (as featured here on Zath recently) has been voted as being the Coolest Gadget of the Week by the readers of the Coolest Gadgets website!
'Coolest Gadget of the Week' is as the name suggests is the voting of the best gadget or piece of technology by the Coolest Gadgets readers – these people obviously know their gadgets, so it's rather cool to see Zath's latest submission winning out of the selection of gadgets on show last week! This is the first time we've won, so thanks very much to Coolest Gadgets and to everyone who voted!
Continue reading »
You may remember that about six months, we featured the Make Your Own Morph kit which we thought would make the ideal gift for any budding animator or just anyone who remembers the stop-motion early classics that were featured on Tony Hart's TV art show – I remember watching those Morph animations after school as a kid myself! Great times!
What made this 'My Own Morph' kit event better was the fact that it was a usable plasticine model with which you can create your own stop-motion animations and upload them to the official Wallace and Gromit website for everyone else to watch.
Continue reading »
What do you do when you've made the leading product in the market, you're onto your second version and you've sold an estimated 500,000 units? Make it bigger of course – and that is what Amazon have done with the Kindle DX which was released this week.
Back in February we saw the release of the Amazon Kindle 2 and now it's back, with an extra 3.7" of screen size, a host of extra features, and a load more publishing partnerships that promise to widen the range of texts available on the Kindle.
So, what makes this different from the previous Kindle? Well the most obvious thing is that it is a significant amount bigger (9.7" as opposed to 6") which makes using it a lot more practical: you need to turn the page less which is an advantage if you're just skimming through, you can have bigger text and it's better for sharing with other people.
Continue reading »