Black Stig Returns?
Written by
Simon Barker
on February 8, 2009 · Filed under
Funnies
,
TV/Movies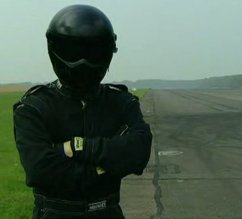 We recently saw that the Top Gear's White Stig Revealed (or at least one of the people in the costume) to be Ben Collins, a Formula 3 driver who has also done some work on the show as himself in the past.
The question remains whether the White Stig will suffer the same fate as the original Top Gear Black Stig did – after his identity was revealed, he was killed off while attempting a stunt on the deck of the HMS Invicible and ended up sinking into the ocean.

However, there's now a video on YouTube showing that perhaps the Black Stig isn't as dead as we all thought! Presumably this is just a cool video that somebody has made, rather than something official made by the BBC Top Gear team, either way it's quite funny to watch – just check out him practicing his cornering skills again!
In case you don't remember or missed seeing how the Black Stig met his end on Top Gear, you can take a look here before watching the video below.
Source – The Sun