Mike
Mike is the co-founder and editor of
Gadgets For Men
- a website about gadgets and technology that blokes especially might like, some of our favourites in terms of the kind of the typical 'blokey gadgets' he writes about are
6-in-1 Solar Robot Kit
,
Lightsaber Umbrella
and
Nerf Havok Fire Automatic Blaster
. Mike has also created another website called
Man-Fat
which covers gaming as well as some more random topics, be sure to take a look when you get chance! Luckily for us, Mike sometimes guest posts here on Zath about his more techy and gaming subjects that interest him and you can read all about them in the articles here on his author pages.
Here are all the Zath articles written by Mike...
Being new to the world of Android with my new HTC Desire I immediately looked up what the top apps were. I then went on to downloading the usual list of best Android apps such as app killers, music streamers and file managers that make using the phone that bit easier.
They were all pretty cool but did not really showcase any of the massive powers of my new Android mobile phone handset. So I went on a random romp through the app market place waiting for something to catch my eye. After downloading several apps, some good, most bad, I stumbled across the Droid Armory Android app.
The description said it was a World of Warcraft Armory port of the webpage-based system provided by Blizzard. I've never really used WoW Armory as when I am on the PC I am working or playing and don't really care what other players are wearing or doing.
Continue reading »
Virgin Media has been around for a while now and I am sure that you have all seen their adverts boasting about on fibre-optic broadband services. The problem I had with this was that it left me begging the question "how good is it compared to say, BT or Sky Broadband's phone line based ADSL services? (Let's not even get into mobile broadband)".
Well now you are in luck as I switched to Virgin Media's fibre-optic broadband and have given it a full testing in my own "special way". On the surface things stack up pretty well. My old service offered "up to 8MB speeds".
Using a download speed test, what this actually equated to was me receiving around 1 MB/s – Virgin offers 10MB, as standard! The difference is though what this actually equates to speeds on average of around 9 MB/s. That put into perspective means that I can now download a typical MP3 in about 5 seconds or a typical film (800 MB) in 12 mins. This is a huge boost in performance and put an even huger (I know that is not an actual word but it is very fitting) smile on my face.
Continue reading »
This 'FEAR 2: Project Origin' review actually came about in quite an unusual way. While trying to decide what to do at the weekend I gave some friends a call for some communal ideas. We came up blank. As we were all skint we could not afford to go out for a good go on the pop, not enough cash for an interesting game of poker and were sick of watching DVD's. The idea we stumbled upon was, as you can probably guess by the subject of the post, to get a slab of ale in and thrash through a new game.
Off the back of this inspirational idea I went to see a gaming chum for some "specialist" advice on what games would fit the bill. I happily explained we all like playing FPS games and watching action/horror DVDs. He smiled broadly, slowly reached into a small draw in his desk then slid an unmarked green DVD box across the table to me. I stared at his sinister smirking face and asked what this mysterious box contained. He dipped his head and muttered the word Fear, paused, suddenly burst into a cackling laugh and vanished into a loud crack and a puff of smoke… sort of.
Back to the real world, I informed my friends that I had acquired a game, told them to arrange the beverages and just like that, our first game night was set…
Continue reading »
As Zath HQ is not based in London, we feel very little attachment to the geography of the Monopoly board – Old Kent Road had no tangible meaning and Pall Mall means next to nothing. How much better would it be if you could actually make your own Monopoly choosing the names of the streets and call them whatever the hell you want. Well now you can!
With My Monopoly you actually get the opportunity to have the board printed with whatever names you chose. This means you could be playing the "business man's board game of choice" around your very own town and you can chose whether you live in Old Kent Road or Pall Mall.
Continue reading »
Why try and reinvent the wheel, when you could whack a magnet on the back of it and slap it on your fridge. Digital photo frames are not exactly new tech but the simple idea of whacking it on your fridge is. This Fridge Magnet Digital Photo Frame is a brilliant piece of thinking and would make an ideal prezzie for any photo (or fridge) fanatic.
It is essentially an 8.3 x 5.5 x 1.2cm digital magnetic frame with 32mb of internal memory. This allows you to store up to 66 photos that are displayed on the 5x4cm LCD screen. As the screen is reasonably small the photos are clear, despite the resolution only being 320×240.
Continue reading »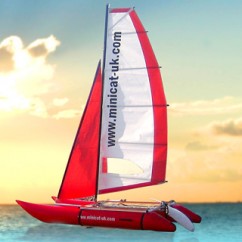 Have you ever thought of owning your own yacht or a (not so mini) catamaran? Of course you haven't!! Because theose things are huge and you're not a 60 year old, pipe smoking, port swilling toff.
Have you ever thought of owning your own catamaran? Again probably not, because they are massive, expensive and not exactly the most practical mode of transport… until now!!
Welcome to possibly the best gadget you will see this Christmas, the Mini-Catamaran.
No your eyes do not deceive you, this brilliant piece of engineering is basically a catamaran in a bag. Impossible, I hear you cry, but actually it is quite simple just look at the Blue Peter style help instructions below:
Continue reading »
The EcoButton is a cool USB gadget that saves you money and fights global warming! I can practically hear your tuts of disbelief back at Zath HQ. But seriously this little eco-friendly gizmo will do exactly that and even has the balls to gloat about it too!
I am talking about the EcoButton. Essentially it is a large nicely lit button that plugs into a USB port and once clicked puts your machine into "Eco Mode". This allows your computer to go into a standby mode that only uses 1.8 watts of power (apparently that is loads less then most normal standby modes). "who cares" and "nothing new" I thought when I first saw it, but I decided to look a little deeper.
Continue reading »
Do you need convert VHS onto your computer or DVD? Well you can now get a USB VHS Converter, so that makes me ask the question – "Do you even remember VHS?" – Personally I remember sneakily taping a certain leg crossing/uncrossing scene and trying late at night to repeatedly rewind and play it without my parents hearing.
If your answer to the question was NO, then this is grown up talk, go do your homework! If your answer was YES, then you'll know that my parents (and probably the next door neighbour) heard the horrendous stop, start and rewind whir that all video machines made. The switched on couple that my parents are, knew exactly what I was doing – I feel a little sick! Well that's enough of me sharing, down to business!
Continue reading »
I generally like games that are not classed as "normal", hence I have a Nintendo DS and a Nintendo Wii. So when I saw Trauma Center: Under the Knife at a knock down price I had to pick myself up a copy.
The angle the game comes from is that you are a young doctor fresh out of med school starting work in his first hospital. You then proceed to go to work on progressively more difficult surgical operations. These start easy, clean wound A, drain lump B, remove huge piece of glass imbedded in man's pumping heart and sew the gaping bloody wound it leaves before he dies from blood loss C.
You know, fairly routine every day stuff. The learning curve is slow to start with and there's an almost step-by-step walkthrough on how not to kill a man with a piece of surgical equipment. But don't worry, you will!
Continue reading »
Fans of the Mario Kart franchise will not be let down. This is a pixel perfect copy of Mario Kart 64 with some added goodies. The nostalgia of Mario Kart snaking came flooding back when I played this game – it made me want to dig out my N64 and have a blast on Goldeneye.
If you have played any of the Mario Kart games before you will know the score; oversized cartoon characters racing around in strangely undersized vehicles shooting turtle shells at each other and using "magic" mushrooms to boost you about. People who have not played Mario Kart before do not be afraid. It is easy to pick up and play and will keep you busy for hours.
Continue reading »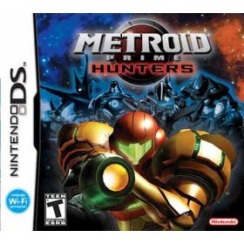 A first person shooter on the Nintendo DS? My first thoughts were "Small screens + low graphics x no mouse = shockingly bad game". I should learn to keep my thoughts to myself. After watching some gameplay of Metroid Prime Hunters, I bought this game to check the graphics were as good as they looked. I was astonished at the quality and smoothness this game displays. The environments are a little claustrophobic but the texturing and environment are rich with detail.
Continue reading »
My friends laughed when I told them I'd bought Legend of Zelda: Phantom Hourglass for my Nintendo DS. "Kiddies game" they said and warned me about a lot of text chat spieled of by Manga looking characters while needing a walkthrough to really advance through the game.
Continue reading »
After inheriting a cheap Nintendo DS with "Mr Myagies Brain Breaker" (long story, wont boar you) I set about trying to find myself some cheap games that I actually wanted to play. "Easy task" I thought, "The DS has been out for ages" I said, "cheap second hand stuff will be kicking about everywhere" I told my missus.
How wrong could I have been. Even the dodgy second hand stuff from the dreaded eBay was gonna cost me at least 1 nights beer money. There had to be a solution!? Ok it's an old solution, but make sure when you do buy a game that it is one of the Nintendo DS's top games!
Continue reading »