The Average Windows Nerd
I've been around PCs all my life and I'm an avid Windows enthusiast. I used to work in IT, but now simply enjoy it as a hobby; however I do still take an interest in the industry. I'm a compulsive tinkerer and have probably re-installed my machine more times than many normal people have switched theirs on. I'm a novice XBOX 360 gamer, mostly playing a mixture of driving and platform games, which I mostly suck at, possibly with the exception of Ridge Racer 6, which I simply don't have the time to play enough of. I enjoy all things tech, and am a big fan of Leo Laporte and his "Twit" network. I have a soft spot for high-tech in small packages and still miss the Minidisc, just because it was so damn cool. I'm also a bit of a retro / nostalgia junkie and still have 20 year-old copies of C+VG magazine which I thumb through from time to time. Outside of Tech, I like SCUBA diving and playing the Didgeridoo (no, not at the same time) and I run a Didgeridoo club with my dad.
Here are all the Zath articles written by The Average Windows Nerd...
I'm almost certain he did this at some point, but I can't find it. Ah well, never mind..
So then, let's get down to stating the bleeding obvious about the Apple iPad…
Where's the kick-stand? – Tablets are unwieldy, and it's a pain to hold it through a 2 hour movie. I suppose you could scratch the back up by resting it against something, but good luck with that rounded back.
Wot, No Flash? – According to Apple, some websites aren't accessible through the iPad, because the browser you're forced to use doesn't support it. Well, clearly the iPad belongs in 1996, when that wouldn't have been such a massive, debilitating and inexcusable deficiency. Honestly, I'm lost for words on this one. I mean, I'd be better-off with my PSP(!)
Continue reading »
As promised in my How To Setup Xbox 360 Media Player Guide teaser, with this help of this guide you should be able to stream everything. Play anything. Hundreds of HD movies. Thousands of songs. No DVDs, no DRM, no getting up from the sofa. No need for your PC to even be on and above all, no fruit! I told you I'd show you how to do it, so here it is. From scratch.
Part One: Infrastructure and Software
I recommend that you follow this guide with a clean installation of Windows 7 on a modern, Intel, dual-core or better native PC (ie. Not VM or Boot Camp), with at least 2GB of RAM, an internal SATA HDD, wired Ethernet and USB2 onboard.
Continue reading »
You're not going to like it…
Just as I said I would, I wanted to test out whether Windows is virus proof and this is how I've done it!
I've been putting Windows on my PCs from an OEM or VLA disc for so long, that I've apparently forgotten what it's like to buy a new Windows computer from scratch. Well let me tell you now, it's horrible! Windows has the reputation of crashing, getting infected with crap and generally screwing up without human help for one reason, and one reason alone. It's the freakin' OEMs.
Do you know what happens when you buy a new Windows PC?
This happens…
Continue reading »
I just had to buy this. It's the new Star Trek movie on a cool all-metal USB key, and it's in DIVX!
Well, that's just what the Xbox 360 / Archos / just about everything (apart from the crapple) I have, loves the most! It will play on six devices and well and.. OH MY GOD. Let's start at the beginning, and then painfully work our way through everything that's wrong with it, shall we?
I imagine that most people will go through the following sequence, and please bare with me if this isn't exactly the same for you…
Continue reading »
Hold back the vomit; it's time for Real Player SP!
If you're like me, something happened in your teenage years, when you lost your mind through a combination of hormones and white cider, and decided that it would be a good idea to install Real Player on your computer.
Back in the age of Netscape, when .rm (and all the other) files were competing equally with every other format out there, it was quite a reasonable, even necessary thing to have Real Player installed. Of course, that was then and this is now. With the advent of VLC Media Player and similar cross-platform products, Real's stranglehold over the .rm genus of increasingly insignificant file types has all but disappeared.
Continue reading »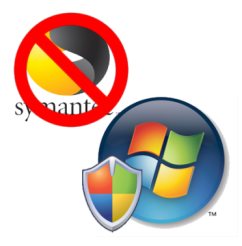 "It is impossible to install, execute, or enable a virus in Windows unless, against the clear advice of the operating system, you explicitly choose to do so. Windows is virus-proof."
Hmm, that's quite a bold statement isn't it? I mean, you'd have to be some sort of deluded "fan-boy" to actually believe a statement like that, right?
Maybe.
I intend to install Microsoft Security Essentials on a test machine with an isolated internet connection, and then do my level best to fuck it up. What do I mean by this? I will visit every dodgy web site, try a "test-scan" of every Win-Antivirus out there, and absolutely yes, please do show me Angelina Jolie in a compromising situation. Want my email address? Well, it's right here:
Continue reading »
This one slipped out quietly, as most people don't even seem to know it exists.
Anyway, fact is, Microsoft now give you complete anti-virus and malware protection, free of charge. So is it any good? Well that's a very difficult question to answer, because unlike many other kinds of software, anti-virus is typically proven to be good over time, in the real world and with demonstrated resilience. Microsoft Security Essentials (MSE) hasn't been out that long, so its competency is yet to be proven.
I must say though, I already like it more than any of the other free offerings. It does exactly what AV should do, it installs without fuss and it leaves you alone. I wouldn't necessarily advise you to bin the likes of AVG or Avast just yet, but I'd certainly recommend it over horrid, paid-for bloated-beasts like McAfee or the satanic monster known as Norton.
Continue reading »
Stream everything. Play anything. Hundreds of HD movies. Thousands of songs. No DVDs, no DRM, no getting up from the sofa. No need for your PC to even be on and above all, no fruit.
For a simple, straightforward process for everyone to accomplish this and so much more with reliable ease, The Average Windows Nerd presents "Xbox 360 – A Complete Ecosystem Guide", a practical and detailed step by step guide to making your Xbox 360 the media hub of your Windows 7 – networked Home, just like I did for "how to play iTunes H264 movie files on the Xbox 360".
Continue reading »
It's Bill time again! (it's always Bill O'clock in my house). I think Bill's expression here, is a combination of shame and lust. Anyway, on with the whinging about Apple…
I always take delight in posing this quesstion to Mac Monks: "Well if OSX is so reliable and fantastic, where are all the Apple servers then!?" Exactly. There's only one word in networking, and that word is Windows.
In part one of my iTunes 9 review, I told you how rubbish media sharing was in iTunes 9 and I told you why, but you know what? It doesn't even matter. iTunes is a great audio manager and a competent audio streamer, but it's no media-hub. Windows, however, is.
Practical sharing in Windows is so simple, I can cover it a paragraph. Here we go then…
Continue reading »
What can I say to follow up on my iTunes 9 teaser? Well, the scary doll from SAW said:
"Ringtones at a breakthrough price of $1.29" "We've bumped podcasts over and given the slot to ringtones"
Because that's what everyone wants isn't it? Not free, informative podcasts, oh no. Fucking shitty 30 second ringtones that cost more than the whole song, that's what we want! – Assholes.
Continue reading »
Ooo, colour me cross. I'm so upset, the "Star field Screensaver" is coming out of my ears, and a couple of other places.
If you haven't seen the whoopty-fuck of an event that was this year's steve-note, you can watch it here.
Continue reading »
Windows Nerd Essentials: Understanding and Effectively Using Data Backup Systems
Yesterday. All my troubles were so far away. But now my data's gone, there's hell to pay. I believe in yesterday…
I fucking hate having to back-up my data, but you know what? I hate losing it even more. You may have read about my experiences as a technician in a little computer shop before, but apart from the viruses, shitware and porn (oh yeah, by the way, some of you people have real problems), the number one question I got when working in Gary's grot-shop was "can you save my photos and emails!?"
The fact of the matter is, most people don't run comprehensive backups and to make matters worse, most people who think they do, errmm…don't.
Continue reading »
"Bring On The Pain!"
Ages ago now (sorry), realising that I couldn't really say what I had intended to say about Apple without actually going through the "fail" process for myself after writing iPhone 3.0: The Dark Side – Part 1, I decided to sacrifice my un-activated 1.0 iPhone in the name of science, and upgraded the firmware to iPhone 3.0. Here's how it went…
I connected the iPhone to my PC, then waited the 45 minutes or so it takes for Apple's flagship product to load in Windows. It duly reported that a firmware update was available, so I chose to install and waited. After downloading and installing, the iPhone re-booted and reported that it was waiting to be activated. "That's all folks!" I thought, but after 2 minutes of sitting doing nothing, my iPhone gave up trying to activate and just turned on and worked.
Continue reading »
I put the Bill-gasam of pictures up there because it makes me smile. Nothing to do with the story, but man, look at that nerd go.. Top left is "yeah, we're really gonna screw 'em".
Anyway, if, like me, you've downloaded the Windows 7 RC and have been happily using it for several months as your primary operating system, there is something I'd like to draw attention to.
I'm sorry if this sounds like on of 14 life lessons from He-Man, but I had a conversation with a colleague today at work which made me realise that it might be a good idea to point out the obvious, so here it is: No one should be relying on Windows 7 right now.
Continue reading »
I know what you're thinking.
Here's the Windows Nerd, back for another round of Apple bashing. Well let me get a few things straight right now before we begin. I own an iPhone and more than that, I think it pretty excellent. There is absolutely nothing out there that even comes close to the intuitive user interface, the plethora of fantastic apps and the sheer usability of what is quite simply, the best phone ever made. Am I going to use an awkward, clunky Windows Mobile interface, or am I going to use an iPhone? Hmm, tough call isn't it?
Continue reading »
The system you use has left it's scent on you. Do not forget who it is that you serve…
No one on this planet has ever bought an iPhone. While experienced users fumble with shitty firmware migration and Apple bigots rave over the most superficial and fundamental enhancements, let's not forget the elephant in the room. As good as the iPhone is, your use of it depends on the continuing flow of money from your bank account to your cell provider. Don't think for a minute that your iPhone won't eventually turn to a brick, because I personally guarantee that in time, it will.
Continue reading »
You've read and followed part 1 and part 2 of my Windows 7 RC essentials guide to getting started with Microsoft's latest operating system, so now here's the 3rd and final part!
Part Three: Explore and Connect
So after your lightning-fast install of Win 7, it's all gravy, right? Well.. no. Windows 7 contains this fuck-nut called HomeGroup. I've commented before on how simple and universal the HomeGroup networking infrastructure is with the X-Box, and that's certainly true here. Unfortunately, it seems to absolutely disrupt network connectivity with anything that isn't Windows 7 (such as Vista). I'm on a Windows Server 2003 Domain, so file sharing worked for me, but network printing didn't.
Continue reading »
So you've got your PC all ready for installing Windows 7 RC by following my Getting Started Guide – Part 1? Right then buckle up for the next bit!
Part 2: Install and Configure
Boot from the DVD and install to your blank partition. If you're lucky, you might witness a boot-loader, through to install sequence, then final configured desktop, without a single re-start. I must say, this didn't happen on my Toshiba Satellite laptop, or the good old Acer Netbook, but it did happen on my aging HP tower. Even a single re-start was fine, but the HP went from BIOS to streaming Flash video in 22 minutes without restarting. Sorry, but that's just amazing.
Continue reading »
Windows 7 puts up with me, my obscure software, and my nerdish habits. It takes everything that was good about Vista and runs like Server 2008. It's happy on any Pentium 4, Atom or Core processor, providing you have at least 1GB of RAM. This is absolutely the trump card for Windows and it's the reason why I think Microsoft should bring back switcher ads, but targeted at the antiquated Unix-based OS-X. Windows 7 RC really is that good!
Microsoft has made a near-complete version available to everybody and while it's not intended for the family computer, it's far-enough above and beyond Vista for the typical recreational nerd to give it a go. It's free until spring 2010, and rumours suggest that there will be a direct upgrade option to the final version (paid, of course). If you're comfortable with partitioning or installing hard drives, here's a rough and ready guide, presented in 3 parts, to getting up and running with the best version of Windows yet, without loosing your current Vista installation.
Continue reading »
Let's discuss all the good stuff about the Dell Inspiron Mini 9 netbook (and I do mean ALL the good stuff). It has a phenomenal battery life. "Hours and hours" is the best way to describe it. It is totally silent, because it has no moving parts. It has 3G built-in (which actually works) and is about as small as a PC gets. Now that's out of the way, let's start the review shall we?
The Dell Inspiron Mini 9 netbook is quite simply the worst PC I have ever seen or used. There are so many fundamental and important flaws with this machine; I honestly don't know where to start. I suppose the physical layout and build quality would be a good jumping off point, so we'll start there, then work our way through everything. Pull up a chair my friend, because we'll be here a while…
Continue reading »