Zath! Archive for
May, 2008
Gamerbase is a gaming centre located in the HMV store at the London Trocadero at Piccadilly Circus – they have taken the idea of renting out computers for people to use (much like internet cafés do), but in this case they provide top-of-the-line gaming hardware for people who want to have a great multiplayer gaming experience. I recently had to opportunity to visit Gamerbase while attending a media event for Dell XPS gaming systems and saw first-hand how impressive the hardware and facilities were.
Continue reading »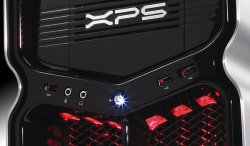 If you look at the Dell XPS range and the XPS 730 Desktop Gaming PC in particular, both in terms of appearance and specifications you might wonder who would be the target market.
Given that these kind of machines are pre-built high-end gaming systems – I'm guessing that these customers must be the teenagers/students grown up and working (on decent salaries) who now have less time for assembling and tinkering with their computers and just want to get on with top-end gaming. These computers now typically come with custom cases, LEDs, water cooling and are already overclocked, plus have the ability to be easily overclocked further – sometimes even using a windows interface to do so.
I recently had the opportunity to attend a Dell media event which was held in Central London that was focussed on PC gaming, both from the point of view of system builders, component manufacturers and professional gamers.
Continue reading »
I was browsing around looking for a cheap bargain the other day and found a great Play.com voucher code on offer for anyone who is looking to buy from the online store Play.com in the next few days.
You can use the following voucher code (when paying for your order) to get 5% off a single purchase with Play.com and it has no minimum or maximum spend limit imposed on this offer. The only thing to bear in mind is that the voucher apparently expires on 31st May 2008.
Continue reading »
After inheriting a cheap Nintendo DS with "Mr Myagies Brain Breaker" (long story, wont boar you) I set about trying to find myself some cheap games that I actually wanted to play. "Easy task" I thought, "The DS has been out for ages" I said, "cheap second hand stuff will be kicking about everywhere" I told my missus.
How wrong could I have been. Even the dodgy second hand stuff from the dreaded eBay was gonna cost me at least 1 nights beer money. There had to be a solution!? Ok it's an old solution, but make sure when you do buy a game that it is one of the Nintendo DS's top games!
Continue reading »
I recently wrote about the fact that Jericho season 2 had been cancelled and how the fans are once again trying to save the show, however this time round no amount of peanuts being sent to CBS will convince them to produce a season 3.
With this in mind, the fans are organising several efforts on different fronts to show that there is a real market for the Jericho show to other TV networks out there who could potentially bring it back for a 3rd season.
Continue reading »
The Zath Premiership recently reached the finishing line after a long, hard season that has run in parallel with and was based upon the English Premier League football season.
In the previous season, Zath Premiership 06/07 was won by my very own team, the mighty Zath Rovers – I even won on merit with no cheating or paying off of goalkeepers or anything else that the tabloids could have made up to take the shine off my title win!
Continue reading »
I've thought up a new regular post for the Zath! site, much like I post with the 'Path of Zath!' (somewhat irregularly, but I've got some new ones on their way) – this time round I thought I could call it the 'Math of Zath!' – it is basically a post I'll make once a month that showcases some of the most popular and best posts in the previous month.
Also, being the analytical person that I am, I'll probably throw in some statistics in along the way – don't there won't be too much, I don't want to bore people to death with numbers!
Continue reading »
This morning I downloaded my first WiiWare game, 'Lost Winds'. I've been waiting quite a while for Nintendo's new channel to come out and I'm glad it's here!
WiiWare is the same as the virtual console, only the games are all brand new and made by smaller games companies, to give them a chance to show what they can do!
Continue reading »
I was recently talking to a friend of mine who had got a free Tesco SIM card for her mobile phone, she has recently got sick of paying out each month and being bound to a contract with one of the main large mobile networks which just did not give her value for money.
Tesco (the UK Supermarket) has been selling Pay As You Go mobile phones for a number of years now, they began by selling PAYG handsets of the major networks, but in recent times they have been mobile phone handsets on their own branded Tesco Mobile network – which actually uses the O2 network much like Virgin Mobile uses T-Mobile.
Continue reading »
Hey guys!! I'm just over half way with my new piece of animation, and hope to have it up on the website within the next 2-3 weeks.
If you could take a look at some of the stuff I've done so far over at Danny Martin's Animation Videos and let me know what you think, it'd be much appreciated!! They're mainly 'cycle' animations, but I'm working my way up to bigger things.
Continue reading »
Not so long ago I wrote about the Lego Indiana Jones preview video which is a game similar in style to the Lego Star Wars games, but this time round it is based around the original three Indiana Jones movies. Well while checking my email today, I found that the Lego Indiana Jones demo has been released for the PC and is available from the 'Games for Windows' website.
Continue reading »
Once again, another master stroke from Nintendo. Just when you thought the Nintendo Wii couldn't get any better, they come up with Wii Fit.
When the Wii was first announced with the Wii Remote, a lot of people were sceptical about how good the Wii Remote would actually be. The same thoughts applied with the Wii Balance Board.
It's technological brilliance!
Continue reading »
There's two billionaire super heroes going head to head at the cinemas this year, the first of was Iron Man (reviewed by Ender) which was released at the start of May, then in a few weeks time Batman will be back with his 'Dark Knight' film – obviously they are different styles of movie, Iron Man being more fun whereas Batman is much darker – but each can be enjoyed for what they are.
Continue reading »
It's been 3 years since Mario Kart came out on the DS and 5 years since Mario Kart: Double Dash was released.
It's been worth the wait for the next instalment.
I was pondering whether to get the game or not, because I thought "what more can they do?" – the answer…….it's Mario Kart! Who cares what's new! So I bought it and it was money well spent.
Continue reading »
I've decided to introduce a new series of posts here on Zath! which I hope you'll find useful and enjoy – I'm calling it "Games to Play Now".
Sometimes you want to play a quick game of something while you're on the Internet, in these cases there's lots different webpage, flash-based and online games to have a go at playing – so here's the first one that I've found recently.
Continue reading »
IRON MAN (12A)
Cast: Robert Downey Jr., Gwyneth Paltrow, Jeff Bridges, Terrence Howard
Director: Jon Favreau
Running Time: 126 mins
So begins one of the biggest summers in movie history!
When I first heard Iron Man was coming to the big screen, I was a bit sceptical. Was it to be another poor attempt at introducing a Marvel hero, or was this to be marker for future superhero films?
Continue reading »
As part of the development of the Zath! website, I'd like to announce and introduce you to a new writer to the team!
'Ender' has been a friend of mine for many years now having met at university, he's a great guy who's a highly skilled animation graduate and will be writing about TV/Movies, games and tech related subjects – I hope you'll enjoy what he has to say as much as I do and am sure you'll find it interesting and useful!
You can now read his first regular post which is an Iron Man Movie Review!
Continue reading »
What would you say if I told you that could now buy the ultimate Star Wars Lego Millennium Falcon to build of your very own?
Well…you can buy a 'Star Wars Lego Millennium Falcon Ultimate Collectors Edition' Set to build from scratch! Now what do you say to that then?
This is quite simply the best Lego set you can buy if you're a Star Wars fan, the Lego Millennium Falcon has the following specifications:
Continue reading »
Yes today is officially Star Wars Day! Well perhaps not quite so official….but at least you too can say to people the classic line of…
"May the 4th Be With You!"
Continue reading »
Do you like to check your favourite websites/blogs while out and about with your mobile phone? If you do, then you'll find that there's one main problem with checking the individual websites and that is that generally the cost of mobile internet access is expensive.
Your mobile Internet usage is usually charged based upon your data usage and as such anything you can do to minimise this is good!
Continue reading »